EDITOR'S PICK
EXCLUSIVE
FEATURED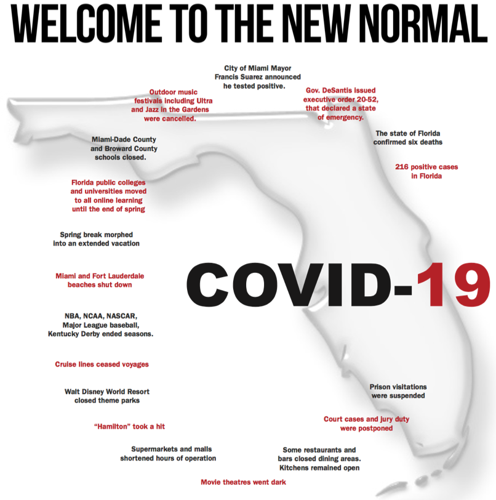 An acronym most Americans had never before heard of has shifted the landscape of everyday life. COVID-19 is the coronavirus. It is a viral infection that emerged in China, made international headlines and has since gained statewide precedence as the foremost discussion item.
The Miami Times reported March 11 that the World Health Organization released the official name for the disease. It was deliberately chosen to avoid stigmatization. The "co" stands for corona, "vi" for virus and "d" for disease and 19 is because the disease emerged in 2019.
In what feels like a quantum leap, a global pandemic now exists in just the third month of 2020. The centers for disease control says it is new and according to the agencies website, "We are still learning how it spreads, the severity of illness it causes and to what extent it may spread in the United States."
The CDC added that the coronavirus is mainly spread person-to-person and between people who are within six feet of one another. It is spread through respiratory droplets produced when an infected person coughs or sneezes these droplets can land in the mouths or noses of people who are nearby or possibly be inhaled into the lungs. Further, people are thought to be most contagious when they are symptomatic or the sickest.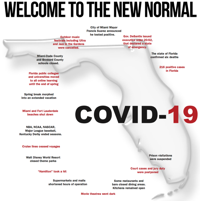 The heightened hygiene awareness that has swept the nation is appropriately heightened. To protect yourself, wash your hands often with soap and water for at least 20 seconds especially after you have been in a public place or use a hand sanitizer that contains at least 60% alcohol. Avoid touching your eyes, nose, and mouth with unwashed hands.
The latter is crucial to dispel myths and advance truth. Understanding coronavirus transmission will help you understand why an initial 15-day window of "shutdown" on everyday life has been mandated.
You must be tested to find out if you have coronavirus, and Florida has made testing availability, for everyone, a priority. Meanwhile, we wait. Some have self-quarantined, many have isolated and all are encouraged to follow city and county mandates.
In black and white, coronavirus sounds clinical and formal, scary and exact. But without a cure and a vaccine pending, this is the state of the world. This is where we are as a nation. Welcome to Miami's new normal. To help you stay updated, The Miami Times has included in this edition an extensive guide to area cancellations. Please follow www.miamitimesonline.com.

Managing Editor
Penny Dickerson is a journalist joining The Miami Times following an Africa sojourn and 10-year freelance career in newspaper and magazine. She earned her master of fine arts in creative writing degree from Lesley University, and a bachelor of arts degree in Journalism from Temple University.