Superintendent Alberto M. Carvalho virtually leads Miami-Dade County Public Schools during COVID-19 pandemic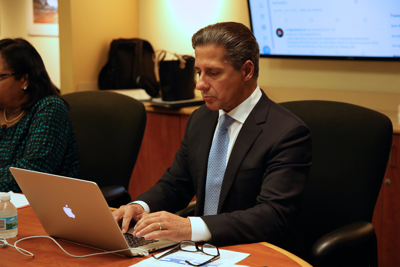 The Miami Dade County Public Schools boasts a lexicon of numeric pride that affords Superintendent Alberto M. Carvalho every bodacious right to brag. In a time-honored refrain, M-DCPS is the nation's fourth largest school district with a roll call that includes 392 schools, 345,000 students and over 40,000 employees that exist as its own cultural mosaic. Of the 56 languages spoken, English, Spanish and Creole are primary.
But applause of the hour belongs to the district's senior class. U.S. News & World Report Best High School rankings 2020 reports, Miami-Dade County Public Schools (M-DCPS) led Florida with 133 schools on the list, including four high schools among the top 100 in the nation. Miami has nine schools in the state's top 20, and School for Advanced Studies (SAS is the number one school in Florida, and the fourth top school in the nation.
This collective is more than just a montage of math, it is the foundation that has sustained M-DCPS through the unforeseen COVID-19 crisis that abruptly ended a traditional school year. Academic classrooms morphed into virtual learning environments. Dry erase boards became wide screens for Zoom conferences and lunch was distributed city wide. On April 6, the district implemented the Instructional Continuity Plan (ICP) 2.0, and on April 18, Gov. Ron DeSantis announced all Florida schools would continue virtual learning for the remainder of school year.
In an exclusive interview with The Miami Times, Carvalho revealed the district's progress and innovative plans for a new initiative called SOAR an acronym for securing opportunities for academic recovery. But projected budget cuts of 15 to 25 percent for the district pose a threat to such plans going into the next school year..
Virtual leadership
Carvalho is charged with upholding a standard of achievement set forth by the nine member School Board of Miami Dade County who appointed him in 2008. The former "Superintendent of the year," was once recognized as one of "The Fantastic Five" educators making a difference in America. He is gracious, and a leader built for the task.
"For the past 25 days, I've been in the office alone, but I choose to be here," Carvalho told The Miami Times April 20. "All my tools are here, two to three screens, access to union groups, and on food distribution days, I put on my mask and hit the streets."
Carvalho can be seen "hands-on" in Liberty City or North Miami Beach to assist the district's effort to reduce food insecurities across communities. More than 1.6 million meals have been delivered in Miami-Dade County over the past four weeks including hot meals cooked by local restaurants like Jackson Soul Food in Overtown.
"This pandemic has not shutdown the school system. We continue to make strides," said Carvalho. "In addition to providing meals, M-DCPS has distributed more than 112,000 digital devices to students, including laptops, tablets and phones with Wi-Fi connectivity."
Carvalho refers to his teachers as "intimate partners in this virtual endeavor" and says they have participated in professional development workshops to help avoid disruption.
"Our teachers are our first responders who rise to the occasion during crisis," said Carvalho who engages them daily with "messages from the heart."
"I am proud of my team and that 99 percent of students have logged on to the M-DCPS portal to have their attendance captured," said Carvalho. "We have experienced daily attendance rates that average more than 91 percent and the majority of our schools have a daily attendance rate that averages 80 percent."
Letters of funding appeal
Carvalho has twice during the pandemic used the power of his signature to appeal for funding on behalf of his district. On April 28, he united with the Council of the Great City Schools, the nation's primary coalition of large urban public-school districts who sent a letter to congressional leaders. It was signed by superintendents of 62 major school districts, including M-DCPS.
The education contingency urged approval of new funding for local school systems in the next coronavirus supplemental appropriations bill and called for additional federal allocation of $175 billion in Educational Stabilization Funds to be distributed at the local level through Title I. The group also urged Congress to provide an additional $13 billion for the Individuals with Disabilities Education Act (IDEA), $12 billion in additional Title I program funding, and $2 billion for E-Rate and emergency infrastructure funds that include public schools.
In a separate letter provided to The Miami Times by M-DCPS, Carvalho sent an address to DeSantis and appealed the imminent distribution of the initial $173M allocated to Florida through the Governors' Emergency Education Relief Fund included in the Coronavirus Aid, Relief, and Economic Stimulus (CARES) Act. The superintendent recommended the following two-step process:
Sixty percent of the K-12 share of the funds should be distributed based on unweighted FTE to ensure every district receives their fair portion of the majority of the allocation. These funds will be able to cover some costs associated with our rapid conversion to distance learning such as device purchases, internet access for students, and feeding of our communities.
Forty percent of the K-12 share of the funds should be distributed based on each county's share of the total COVID-19 cases in Florida. This will ensure that schools in areas hardest hit by the virus will be able to cover some of the extra costs incurred by being in the "eye of the storm."
SOAR – new initiative for M-DCPS
The district is in the early phases of implementing SOAR to not only ensure virtual learning success but bridge the learning gap toward the next school year.
"Our focus will be strategic and in-depth to help identify the most academically-challenged students who further suffer socioeconomic circumstances," said Carvalho who described the plan in four, infancy phases:
•Students who stand to lose the most will be given maximum attention via virtual learning, support to access ZOOM video conferencing for not just themselves, but parents or caretakers. Addressing a household's internet capabilities including technical support is important.
•The district is planning expansive summer programs that will continue to provide hot meals and arts and culture exposure including music programs. Field trips and transportation will be provided contingent upon funding.
•Develop and facilitate face-to-face "small group" learning initiatives to better address diverse learning styles, assessment measures and academic needs for a more personalized approach.
•Implement adaptive messaging initiatives that will offer students in need direct access to a virtual academic tutor to maximize academic success.
Carvalho said the district is also considering implementing an "Early Virtual" school year for select students to attend. It would commence prior to the academic year in 2020-21.
Low-income students and summer slide
While Carvalho fully supports the governor's decision to close schools for the remainder of the academic year, he is abundantly aware that the most challenging academic gap for many students happens over the summer.
"We have what is known as the summer slide. Every summer there is a regression for students who cannot access camps or the arts," said Carvalho who noted that the season called summer doesn't care if you are rich. "I expect that his coming summer, we will see an unprecedented gap in program availability despite the best of intent."
According to Dr. Steve Gallon, III, one of two Black members and vice chair of the M-DCPS school board, when things are bad for everyone, things are critically worse for children and families living in poverty. This harsh reality requires that the district implement a plan of action (like SOAR) inclusive of targeted instruction, resource provision and support to address it.
"As a former teacher, principal, and superintendent, I have spoken with Mr. Carvalho about not only the current plan and process of implementing distance learning, but the harsh reality of the notorious "summer learning slide" and an exacerbated learning and achievement gap among our most fragile and vulnerable student populations," said Gallon.
"We are looking forward to measures that extend learning through the summer and provide additional interventions and support to students in underserved communities and historically under-performing schools."
Dr. Dorothy Bendross-Mindingall concurs with her colleague and is an advocate for student mental health services during distance learning.
"From the start of school closures, the superintendent has been very intentional about ensuring that staff is looking at the connectivity and engagement of our most fragile students – those that are disabled, English language Learners, and economically disadvantaged," said Bendross-Mindingall. "Working through our regions, Title 1 personnel and school police, house visits are being made to mitigate learning losses during school closures. These measures optimize ongoing student success.

Penny Dickerson is a journalist joining The Miami Times following an Africa sojourn and 10-year freelance career in newspaper and magazine. She earned her Master of Fine Arts in creative writing from Lesley University, and Bachelor of Arts in Journalism from Temple University.