Miami-Dade County will not elect Black leadership in 2020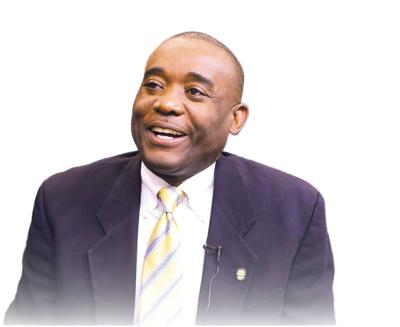 Commissioner Jean Monestime has decided that 2020 will not be the year he will be elected the first Haitian-American or Black mayor of Miami-Dade County. He has left the race. The announcement came Thursday, April 30 in a written statement that ultimately resonated his long-term political agenda: caring first for the people he serves.
"I have humbly come to the conclusion that our campaign's ability to compete has been greatly impaired by the current socio-economic environment. For this reason, as of today, I am withdrawing my candidacy for mayor of Miami-Dade County."
Monestime is a Democrat who has represented District 2 for the past decade. He said a large segment of the constituency his campaign depended on "was among the hardest hit." The reference eludes to the current COVID-19 pandemic that has enormously impacted every sector across the nation but disproportionately affected economic and health morbidities in Black communities with high poverty.
According to Monestime, the current crisis has adversely affected the daily lives of his District's core residents in a manner mainstream America may not consider. He offered a graphic account.
"Many of them are now laid off and uninsured. Some are ill, hospitalized, or worrying about a sick family member, while others continue to mourn the death of loved ones. As they run from food drive to food drive in order to put food on the table, their main concern is whether they'll land their next job, before being hit even harder by the impending food pandemic."
The trajectory of Monestime's life in public service includes a 2010 defeat of the late Dorrin Rolle to win the board's District 2 seat and was elected the first Haitian –American commissioner. Miami-Dade County Mayor Carlos Gimenez has reached term limits, and Monestime filed to run for mayor in October 2019.
He joins a mayoral candidate field comprised of three seated commissioners that include Esteban "Steve" Bovo Jr., Daniella Levine Cava and Xavier Suarez who previously served as mayor of Miami. Former county mayor Alex Penelas is also in the race while former county commissioner Juan Zapata dropped out in Jan. 2020.
"We're in this together" was the unifying slogan touted by Monestime's campaign in a five-month run that included appearances at mayoral forums, ribbon cuttings and a bevy of public appearances to push forward an agenda that attacked poverty and promoted closing the prosperity gap.
According to Monestime, the latter is responsible for the disadvantaged being, "priced out and forced out of their homes and communities in the county."
In his first mayoral campaign ad published Feb. 5, Montestime cited his priority in a video titled, and "It's time to foster a new era of prosperity and success for everyone in Miami-Dade County."
The scripted excerpt below is illustrated by citizens of diverse ethnicities and then Monestime himself. In a simple narration, he aligns himself with the common man.
"…I see it every day, all around us, people struggling living paycheck-to-paycheck not knowing how they're going to pay next month's rent…I'm Jean Monestime. I'm running for mayor because I get it. I've been there. I've mopped floors in a doughnut shop, driven taxis and attended school at night. And like you, I still struggle."
"It's Monestime" became the reverent theme and chant that preceded the mayoral candidate when he rallied small crowds or addressed interest groups like the Black Owned Media Association. The Miami Times participated in BOMA's roundtable Friday, Feb. 21, and in his opening statement, or one-minute special, the seasoned spokesman amplified his campaign to a captive audience.
"My name is Jean Monestime, and I am running for mayor of Miami-Dade County because I believe the county needs to be led in a direction where most people can benefit from the wealth and resources that this county represents."
Monestime further stated that he had the "audacity and confidence" that he should be elected mayor based on his experience, track record, ability to represent with equity every segment of this population and added that he looked forward to taking such opportunities to listen to the needs of stakeholders and interest groups to see how he can better represent, collectively and individually, and become a better candidate.
Voter apathy among Black youth was a discussion item posed, and Monestime addressed it as important not just to the county election but ongoing efforts by Florida Dems to turn the state "Blue" and win the presidential election in November.
The commissioner's campaign strategy for driving youth to the polls found him circling back to his broad platform for equity.
"There are a number of elements that play into the plan, where you can raise enough funds to pay for media that would attract that demographic and whether or not you have a message," said Monestime.
"To be candid with you, I'm probably the only candidate that has a message to build a strong Dade-County for all people. All people will not be wealthy and all people will not end up with a master's degree, but most people will compete based on the same level playing field or have access to resources to get there."
With a statesman's grace, Monestime stepped aside from the heftiest political endeavor of his life, but the action doesn't change his public servant role.
"While I do hope that the working people of Miami-Dade find a true champion in the next county mayor, I will faithfully remain committed to making their voices even stronger as I continue to serve as their county commissioner," scribed Monestime and added that, "Serving you has been my biggest blessing."
Voluntary withdrawal from the mayoral race will allow Monestime to hold his commissioner's seat until 2022. Monestime remains on the frontlines of COVID-19 testing and was instrumental in securing the county's first walk-up testing site in District 2. The site opened April 29 at Holy Family Catholic Church, located at 14500 NE 11th Ave., North Miami, Florida.
Providing testing for residents who are asymptomatic has been cited as a priority in mitigating the spread of coronavirus in Miami-Dade County. Appointments can be made up to three days in advance for this walk-up site, and residents can call 305-499-8767 to schedule an appointment.