Miami-Dade mayoral candidate enlists dialogue in a roundtable discussion.
Mar 4, 2020 Updated Mar 10, 2020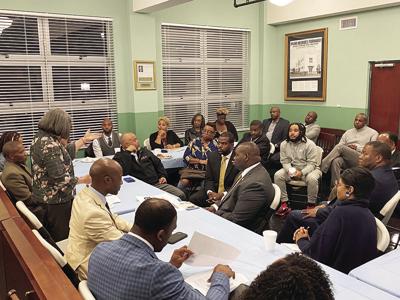 In Judge Lawson E. Thomas' courtroom at the Black Police Precinct and Courthouse Museum, a corps of Black business leaders, community advocates, politicians and legal professionals convened in a roundtable discussion for straight talk with mayoral candidate, Daniella Levine Cava.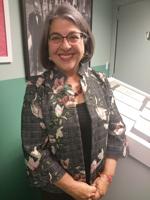 Questions regarding wealth and racial disparity, affordable housing and branding led the engaging discourse held Friday, Feb. 28 during a two-hour gathering. Levine Cava told community leaders she views them as a "great trust" to advise her as she seeks to be elected the first woman in the history of Miami-Dade.
Levine Cava was elected commissioner in 2018 to represent District 8, which includes Palmetto Bay, Cutler Bay, Homestead and unincorporated areas of South Dade including Redland, Falls, Princeton, parts of Naranja, Leisure City and parts of West Kendall. She is an attorney licensed by the Florida Bar, and in 1996 founded Catalyst Miami. The human services and education advocacy organization helps about 5,000 low- and middle-income people annually reach self-sufficiency.
The evening's tone was set when Levine-Cava offered her campaign agenda.
"At the end of the day, my goal is to have a prosperity agenda for Black minorities," said Levine Cava who promised to have an office dedicated to issues of equity if elected mayor. "In the almost 40 years since I have been in this county, I have seen a great divide and a growing divide. In particular, I am concerned about the African American community, which I see is at a perilous disadvantage. The changing demographics have brought positives, but it has also meant some communities have been left behind."
Dwight Bullard, the New Florida Majority political director and a one-term senator, kicked off the discourse by expanding the concern of Black wealth as a topic commanding refocuses toward generational wealth.
"We gotta take wealth a step further; it's generational wealth and that ties into homeownership. If we can build-up generational wealth, we're not just dealing with the moment; we're setting up the future," said Bullard. "Those two things go hand-in-hand. One thing this county can do is address construction in homeownership. I mean, permit costs and expediting permits are all good things, but they don't really make a dent in hard construction costs."
Bullard suggested the county be more involved in negotiating with major suppliers on a large scale and negotiating fair prices with contractors. He believes the aforementioned will create homeownership at affordable rates.
The significance of area median income in Black communities became a discussion refrain. According to the U.S. Department of Housing and Urban Development, the area median income for Miami-Dade is $54,900 and serves as data to determine eligibility for affordable housing programs at the federal and sometimes local levels.
Levine Cava addressed the realization that some people are given deals that they can't afford to turn down, which can effectuate gentrification. She seeks to be more aggressive in that area.
"This was brought up at my first candidate's forum with the Black Professionals Network. I said we need organizers," said Levine Cava. "We need people to go out to educate people and support them to stand firm. Obviously, people are hurting. Here come's a deal and they sell out. Then, there's no place they can go."
Trelvis D. Randolph, a partner with the law firm Quintairos, Prieto, Wood & Boyer posed concerns regarding the countywide area median income and developers exploiting construction costs and figuring out a formula. Where the county builds houses is essential to the quality of life of Miami-Dade Black residents.
"Black pain in Miami-Dade county is historical," said Randolph. "And too often the commitment of mayor candidates, mayors etc. is one of piecemealing or satisfying a very small spectrum of the Black community in order to navigate wins versus the long-term goal of sustainability and growth…"
Randolph said he would love to elect someone who has a longterm vision for understanding that Black people have suffered indignities and traumas in the county too long. He exampled the Black Police Precinct and Courthouse Museum.
"Yes, this is great, but what is not told in this story is that Black police officers were unable to carry guns," said Randolph. "They could not arrest white residents of the county or the city, and if they did, they were subject to losing their jobs. It has created layers of pain put upon the Black community."
Kenasha Paul, founder and president of the Black Professional Network, ushered in the topic of marketing Miami-Dade as a county that inhabits a definitive framework.
"As mayor, what are you going to do about branding the county? Specifically, we have conversations about affordable housing and low-wages, but there are seven-plus colleges and universities," said Paul.
"That means we should be middle-class, but we haven't figured out our brand. Are we going to be a service-based economy, a hospitality economy or a tech economy? That narrative needs to be clear."
According to Paul, Miami-Dade is producing college graduates at a rapid pace. Those graduates are financially grounded by debt that impedes their qualification for affordable home buyers' programs. Additionally, the county doesn't appear equipped with businesses that recruit college-degreed people.
"We focus on low-wage jobs, and I understand the process of procurement and construction," said Paul. "But if you graduate with a law degree, the most you can do in Miami-Dade County is get a job for a construction company."
Levine Cava emphasized that Miami Dade is a financial center that is global and international, but is not sharing that story.
"What we're really good at in Miami is change. This place is innovative and dynamic, but a lot of people have gone away because it's sparse," said Levine Cava.
"We should be selling to the world how to live in a diverse society. We do not have an economic development arm; we have an economic council. There is not a person in charge of making decisions regarding the many things discussed here today. That will change."

Managing Editor
Penny Dickerson is a journalist joining The Miami Times following an Africa sojourn and 10-year freelance career in newspaper and magazine. She earned her MFA in creative writing from Lesley University, and B.A. in Journalism from Temple University. Follow Penny Dickerson