Poised to Win
Tamara Smith, Ms. Black Florida USA, uses her platform to help other women
Penny Dickerson Special to the Miami Times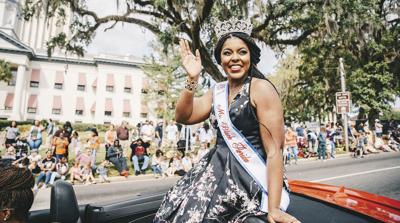 The controversial allure of beauty has captivated American audiences since Bert Parks first rendered his 1955 serenade of "There She Is" in Atlantic City. An obvious absence in the decades since has been the inclusion of Black women whose melanin skin and buxom physiques were dismissed by mainstream pageantry.
While Vanessa Williams broke barriers in 1984, a continued void exists and invites the advent of the Ms. Black USA franchise that ushers in change by accepting contestants from broad demographics and backgrounds. Florida will be represented in the national pageant by the state titleholder who encompasses a fresh era of beauty: meet Tamara Smith.
A Miami native, Smith is a first-generation American of Jamaican-Cuban descent who beholds every necessary attribute to win: she's confident in her skin and a stunning beauty with a radiant smile.
Smith's attitude of inclusion transcends to perhaps her most valuable pageantry asset: her platform is Empowering Women to Make Self-Care a Priority. Through it she shares her reproductive challenges and offer inspiration to other women.
Her education pedigree boasts undergraduate and graduate degrees from Florida State University and she's an experienced on-camera and event host with fashion and retail partnerships that include Visit Florida and national personal care brand SheaMoisture. Further, she holds full-time employment as the Veteran's Success Center Coordinator at Tallahassee Community College.
Affectionately known as "Tam G," the 34-year-old daughter of Robert and Joy Gardner balances the aforementioned catalogue of experiences while maintaining a 10-year marriage to Orrane Smith whom she met at Family Worship and Praise Center, a Tallahassee-based ministry where Smith is on the praise dance team. She is additionally head-mom-in-charge to toddlers Oneil, 3, and Owen, 1. And while the latter life-load may appear daunting, Smith relies on her Christian faith and the brevity of her favorite word to survive — thrive.
"The word thrive sounds like the epitome of living to me," said Smith. "It's realizing your thoughts and dreams. It means to live out. Pageantry is new territory to me, and I'm transparent about that, but I didn't look at this to define me. Winning Ms. Black USA is for my community. I want to win for us."
PERSONAL BATTLE
The Empowering Women to Make Self-Care a Priority platform is an inspiration stemming from Smith's personal battle with endometriosis that led to fertility/reproductive health problems. The disease further affected her self-image and emotional/mental wellness.
"I want to use my platform to continue the conversation about self-care and reproductive health," said Smith who added that she thinks it is a relevant subject for all women but uniquely specific to women of color.
"It's a difficult topic affecting women of all races and ethnicities, but almost an epidemic among African-American and Hispanics. And it's not just endometriosis, but many related conditions."
According to blackdoctor.org, endometriosis is a condition that occurs when the tissue that normally grows inside of the uterus (called endometrium) grows outside of the uterus in the pelvis. Once in the pelvis, the endometrial tissue causes inflammation and scarring as it attaches to pelvic organs (fallopian tubes, ovaries, bowel and bladder). This scarring and inflammation are what causes the painful symptoms many with endometriosis experience.
Endometriosis is common and about 10 percent of American women (about five million) are affected. It is the single-most common causes of chronic pelvic pain in women and there is currently no cure.
"Menstruation had been difficult for me since the age of 12 and included debilitating pain," said Smith. "A monthly cycle continued into my early college and adulthood causing me to often miss class and work. It wasn't until I was 28 years old that I met a doctor who performed the necessary tests and procedures. A bladder condition and fibroids were diagnosed and both were so advanced, a radical hysterectomy was recommended."
Smith and her husband proceeded with a second surgery and remained on one accord regarding their desire to start a family. It was Orrane who was informed during the procedure that his wife had pervasive endometriosis. He pleaded with surgeons to at best repair one fallopian tube, one ovary, and sustain her uterus. Unlike many women who were are left infertile and unable to conceive, Smith and her husband emerged blessed.
Smith tries to enlighten all who will listen and offers the following advice to national advocates who seek reproductive advances toward a cure:
"If you're going to put money into the research, you need to be aware of what women are going through," said Smith. "My platform is a passion project. My ultimate goal is to be in front of people on a larger scale and that may be hosting shows or doing something similar."
PAGEANT READY
Currently, Smith is enjoying the perks of being a state queen. Her appearance schedule is hectic as she has been a guest on radio programs and honored Women's History Month March 24 by hosting The Sunshine Brunch – an afternoon dedicated to celebrating, connecting and empowering women.
Crucial to the months ahead are Smith's preparations to compete nationally. The state pageant was scheduled to be held in Washington, D.C. June 2019. Spare time is cherished as she perfects her theatrical selection to be presented during the talent competition. She will additionally compete in interview, fitness and evening gown categories and welcomes supporters and potential sponsors to follow her at tamgsmith.com.
Competitors in the Ms. Division vie to become Ms. Black USA and have met the eligibility requirements of being at least 27 years of age and not older than 35 years of age by the date of the national competition. They may be single, widowed, married or divorced, with or without children. For more information, visit https://msblackusa.squarespace