Where are the Disney Dreamers?
some Top alums pursue medical careers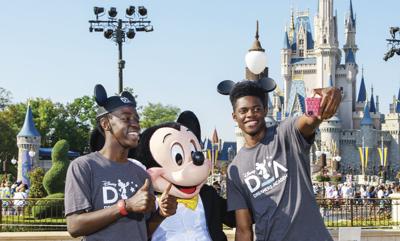 For the past 12 years, Walt Disney World Resort in Lake Buena Vista has invited 100 students to participate in a program that exposes them to career choices. They attend to spend a few days at the Disney Dreamers Academy, led by Steve Harvey.
"Having a dream is one of the most important things in life. My success is a direct result of dreaming big," said Harvey. "It is my passion to help others dream bigger and to give them the tools to achieve those dreams. That is why I enjoy partnering with Disney on this program every year."
Students were chosen based on responses to an application essay about their dreams and personal stories. Selected Dreamers receive an all-expenses-paid trip for themselves along with a parent or guardian.The latest class of dreamers convened March 21-24, to discover new career opportunities, pursue their dreams and interact with participating celebrities and motivational speakers. Jonathan Nabaka and Anthony Taylor represented Miami at the academy this year.
The Miami Times caught up with previous dreamers to find out how their experience years before impacted their life and education and career choices.
Kalin Houston — Class of 2013
Kalin Houston became a Disney Dreamer in 2013. She was a 16-year-old junior at St. Thomas Aquinas High School in Fort Lauderdale and knew she wanted to be a perinatal specialist or pursue neonatology. What the Davie resident didn't know was how to achieve her dream.
"I always knew I wanted to be a doctor," said Houston. "My mother endured a high-risk pregnancy while carrying my younger brother. She is a diabetic, and I would attend her obstetrics appointments and listen intently to everything the doctor said. That's how I identified my specific specialty."
The 22 year old graduated from Florida State University in 2018 with a bachelor of science degree in family and child science with a double minor in chemistry and biology. She is currently studying for the Medical College Admission Test (MCAT) and gaining clinical experience at West Broward Pediatrics where she is employed as a medical assistant.
A member of Delta Sigma Theta Sorority Inc., she recalls her Disney Dreamers experience as transformative:
"I was one of the Dreamers my year invited to fly to Chicago and appear on the 'Steve Harvey Show,'" shared Houston. "It was the icing on the cake, and I will always remember Steve telling us to reach for the stars and land on the moon."
Carlos Marmolejo — Class of 2014
Five years ago, Carlos Marmolejo was 17 years old and nurturing a dream of becoming a physicist. Born in the U.S., he was raised in Colombia by grandparents and returned to the U.S. in 2010 where opportunity was ripe. He participated in the 2014 Disney Dreamers Academy and the same year graduated from South Dade Senior High School in Homestead. He has enjoyed a busy collegiate life since.
"My number one choice for college was Massachusetts Institute of Technology. I was waitlisted and ultimately didn't get in," said Marmolejo. "I attended Florida Institute of Technology for two years and for economic reasons I had to leave. I had a lot of problems and had to work and support myself."
The ambitious 23 year old currently attends Florida International University and is scheduled to graduate December 2019 with a bachelor of science degree in physics. However, he has deferred his dream of becoming an engineer. Like Houston, Marmolejo is seeking a career in medicine.
"Once I was exposed to undergraduate research, I realized it wasn't what I thought it was and not what I wanted to do," said Marmolejo. "Through my current job at the Hospital of Pembroke Pines, I get to see firsthand what a doctor really does."
A medical transcriber in the emergency department, Marmolejo took the MCAT last fall but plans to take it again to improve his score. He says he's putting "120 percent effort into getting into med school" and from the Dreamers Academy remembers Harvey saying, "If your dreams don't scare you, they aren't big enough."
Shanese Campbell — Class of 2015
The grandmother of Shanese Campbell suffered a debilitating stroke in 2014. Her diagnosis included paralysis and the need for longterm speech/language pathology. This family tragedy has remained the impetus for Campbell's dreams.
"I became a Disney Dreamer in 2015. I was 16 years old and a high school junior," Campbell recalled. "At that time, I wanted to be an OB/GYN and major in health sciences."
She is now a 20-year-old graduate of Miramar High School who will subsequently earn her bachelor of science degree in Communication Science and Disorders this summer from the University of Central Florida. Like Houston and Marmolejo, Campbell is gaining practical field experience by working with audiologists and speech pathologists in the UCF clinic.
Campbell said the Dreamers Academy was an amazing experience and remembers Harvey advising them to always find something about themselves that stands out.
"I want to give trauma victims hope," Campbell said."People are drawn to me because I am empathetic and very relatable. I am an encourager and that is what makes me stand out."
Campbell has applied and plans to continue her graduate education at UCF.
Applications are currently being accepted for the class of 2020. For more information visit www.disneydreamersacademy.org