Miami-Dade County sounds-off against racism and police brutality. The death of George Floyd sparked community organizers, activists and concerned citizens from Broward County and Miami-Dade to unite in protest over multiple days, giving volume to the need for an end to police brutality, racial injustice and the need for criminal justice reform.
Updated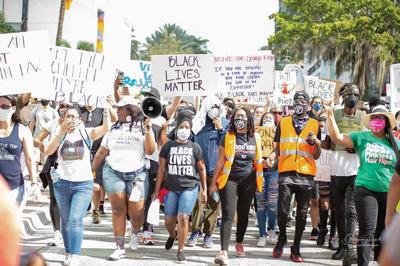 The senseless death of George Floyd on May 25 marks the latest national case of a Black man left dead following a botched arrest by America's white police force. Derek Chauvin, a white officer, forcibly held his knee to Floyd's neck during an arrest in Minneapolis that has become an eight minute and 46 second video a bystander captured and has since been seen around the world. Floyd begged for help while three white policemen stood witness and ignored his ubiquitous wail, "I can't breathe." His last encounter with humanity was being held face-down on asphalt in the streets he once called home. Floyd was later pronounced dead at a Minneapolis hospital.
From as far away as Brussels and Iran to Chicago and Miami, city streets flooded with signage encouraging swift justice. Widespread protests were ventured with good intent to honor Floyd and as a responsive outcry to end systemic racism and a slow refrain of justice lodged against the Black community. However, many protests turned into fiery antics. Cars and some residences were burned. Small and corporate businesses that were severely challenged by the COVID-19 pandemic closures were now looted and innocent lives were lost.
National Guard troops were enlisted to temper peace and elected officials executed curfews. What remains is still a far cry from justice. What has emerged is a voluminous populace of voices citing history and demanding change. Physical remnants include both profane and reverent graffiti hashtags reading #justiceforgeorge, #blacklivesmatter and #stoppolicebrutality. Smoldering ashes are left in cities that had just entered reopening phases following two, long months that forced the entire nation into a mandated lockdown.
The four Minneapolis police officers were all immediately fired from the department's force. Chauvin was finally arrested Friday, May 29 and charged with third-degree murder and second-degree manslaughter. The 44-year-old ex-officer roamed the earth free — for four days — while Floyd's lifeless body lay on a steel slate in the Hennepin County Medical Examiner's office.
According to the Associated Press, the agency announced in a June release the cause of death as "cardiopulmonary arrest complicating law enforcement subdual, restraint and neck compression."
The family of Floyd grieves while the world mourns a criminal justice embarrassment that prompted Floyd's family to commission its own autopsy that stated that their relative met his untimely demise from "asphyxiation due to neck and back compression."
Florida-based attorney Benjamin Crump represents clients in some of the most important and contentious wrongful death and civil rights cases. Crump gained prominence for his role in the Trayvon Martin case and is now Floyd's family attorney. Crump has called not only for Chauvin's charge to be upgraded to first-degree murder, but that the remaining three officers be charged as well.
In a stroke of irony, the same forensic pathologist examined Eric Garner's body. Garner died in 2014 by choke-hold at the hands of a white, NYPD police officer. His death ignited the Black Lives Matter movement and first established the "I can't breathe" phrase. That forensic pathologist found the compression cut off blood to Floyd's brain, and that the pressure of other officers' knees on his back made it impossible for him to breathe, Crump told the Associated Press.
Controversy toward justice now looms regarding Floyd's death as the medical examiner, experts hired by Floyd's family and preliminary findings all differ. What is definitively the same is that once again in America, an unarmed, handcuffed Black man is dead. This finite state of being has galvanized the world at a much needed time but under the worst of circumstances.
Minnesota Attorney General Keith Ellison, a Black man, has taken over the prosecution of Chauvin.
"It is with a large degree of humility and great seriousness, I accept for my office the responsibility for leadership in this critical case involving the killing of George Floyd," said Ellison in a June 1 interview with NNPA correspondent Stacey M. Brown.
Ellison is a former congressman from Minnesota who ran for chair of the Democratic National Committee in 2017. Ellison's appointment reportedly followed a telephone meeting between rapper, businessman and civil rights activist JAY-Z and Minnesota Governor Tim Walz.
The Minneapolis police union reportedly submitted a letter to members stating that the officers were fired without due process and labor attorneys are fighting to reinstate their jobs.

Penny Dickerson is a journalist joining The Miami Times following an Africa sojourn and 10-year freelance career in newspaper and magazine. She earned her Master of Fine Arts in creative writing from Lesley University, and Bachelor of Arts in Journalism from Temple University.