George Floyd is laid to rest amid criminal justice reform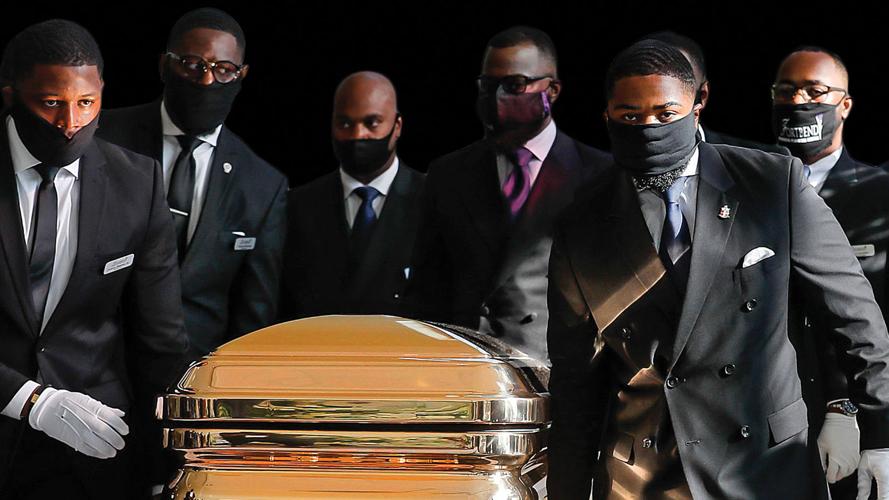 Pallbearers bring the coffin into The Fountain of Praise church in Houston for the funeral for George Floyd on Tuesda June 9, 2020. Floyd died after being restrained by Minneapolis Police officers on May 25. Godofredo A.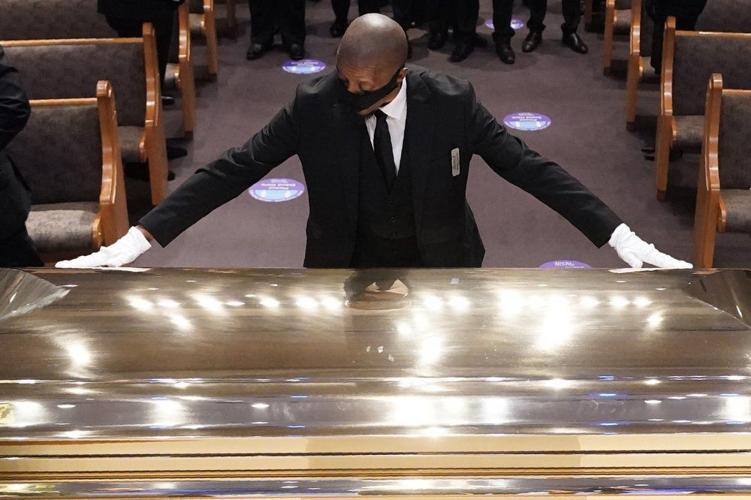 A Black man's body is laid to rest in a casket. Four ex-police officers are in custody. Protestors world-wide have been subjected to curfews and a voluminous call for 'change' persists. The alliterative aftermath of George Floyd's death on May 25 has altered the humanitarian fabric that monitors everyone's pulse. Floyd's last breath also tempered racial conflicts that have heightened since Dr. Martin Luther King, Jr. first dreamed.
Floyd's funeral was held Tuesday in a private service in Houston, where he was raised. His final burial was in Houston Memorial Gardens cemetery in suburban Pearland next to his mother — Larcenia Floyd — who brought her 6'4" 'gentle giant' into the world and served as his final outcry for help before he took his last breath.
His coffin was gold, a brown suit was fitted to clothe his lean frame and a mural hung on a stage behind the casket that depicted the Christian street evangelist wearing a black cap against a backdrop of white angel wings. The symbolic homegoing was described as being dignified and attended by statesmen, celebrities and civil rights leaders.
Heartfelt memorials
Rev. Al Sharpton, the founder of the National Action Network, delivered a eulogy to honor Floyd's life at North Central University in Minneapolis on Thursday, June 4 for the first in a series of memorial services honoring Floyd. "We must turn this moment into a movement," Sharpton told reporters on Wednesday, June 3 and described Floyd as a "linchpin" for police accountability.
Since the 46-year-old died while in police custody in Minneapolis, Floyd's relatives have been part of massive protests in Texas. His children heard crowds far way from home chant their father's name. His brother led a prayer vigil at the site of Floyd's death. Minnesota Gov. Tim Walz said Thursday's memorial would be a chance for everyone to heal.
Floyd's family was joined by civil rights leader Rev. Jesse Jackson, Democratic Minnesota Rep. Ilhan Omar, Martin Luther King III and actor Kevin Hart. Shortly before the memorial began, Minneapolis Mayor Jacob Frey approached the casket and broke down, crying.
Star athlete and family man
Floyd was born in North Carolina but called Houston home because he moved there at a young age with his family. He grew up in the city's Third Ward — a historically black neighborhood — and it was there where he played basketball, went to church and met many friends, including the mother of his 6-year-old daughter and former NBA player Stephen Jackson.
"He didn't abuse our friendship, he cherished it," Jackson told CNN. "Floyd was one person I knew that was supporting me genuinely."
As a teenager, Floyd was known as a star athlete. He was a tight end on the football team and played basketball at Jack Yates High School.
"Mr. Floyd was a '93 Yates graduate, an amazing athlete, and a dear friend to many," Tiffany Guillory, the school's principal tweeted last week.
He left home for a few years to play basketball at South Florida State College in Avon Park, Florida, the team's head basketball coach George Walker told CNN.
"He didn't give me too much trouble as a basketball coach," Walker said. "He was a pretty good athlete, averaged 12 to 14 points a game."
Floyd moved to Minneapolis several years ago looking for a better life. He worked as a truck driver and more recently as a bouncer at a club.
He wanted to be a better father, Jackson said, and would often talk about taking care of his daughters.
four ex-police officers – charged
The four Minneapolis police officers who were on the scene of Floyd's arrest have been fired. The Miami Times reported June 3 that new charges were filed against the officers who are all in jail. Derek Chauvin, who knelt on Floyd's neck for 8 minutes and 46 seconds was charged with third-degree murder and second-degree manslaughter last week, and authorities added a charge of second-degree murder. The other ex-officers — J. Alexander Kueng, Thomas Lane and Tou Thao — face charges of aiding and abetting second-degree murder and aiding and abetting second-degree manslaughter. If convicted, all officers could spend up to 40 years in prison.
$1 million bail
When Chauvin made his first court appearance Monday, June 8, he didn't enter a plea. According to the Associated Press, in Minnesota, that legal action comes later in due process. A judge kept bail at $1 million for the 44-year-old alleged murderer who reportedly appeared on closed-circuit television from the state's maximum security prison in Oak Park Heights wearing handcuffs and a mask. He offered the court few words beyond routine questions that confirmed the spelling of his name and address.
Chauvin's bail was raised from $500,000 to $1 million when a second-degree murder charge was added Wednesday, June 3. Monday's hearing was a chance for arguments over the higher bail, and Prosecutor Matthew Frank argued for keeping the higher bail, saying the seriousness of the charges and the "strong reaction in the community, to put it mildly," made Chauvin a flight risk. The judge agreed with the state's request for $1.25 million unconditional bail, or $1 million with standard conditions including surrendering firearms, remaining law-abiding and making all future court appearances.
Catalyst for change
The Minneapolis City Council has vowed to dismantle the city's 800-member police agency. And in Washington, House and Senate Democrats held a moment of silence at the Capitol's Emancipation Hall before proposing legislative changes in policing oversight, reading Floyd's name and those of others killed during police interactions and kneeling for 8 minutes and 46 seconds — now a symbol of police brutality.
Besides banning police chokeholds, the Justice in Policing Act would limit legal protections for police and create a national database of excessive-force incidents, according to an early draft.
Meanwhile, officials nationwide are already taking steps to outlaw chokeholds: California Gov. Gavin Newsom ordered the state's police training program to stop teaching them and Denver police announced Sunday they were banning them, effective immediately. In New York, the state Senate and Assembly passed legislation that bans police chokeholds, guarantees the right to record police activity and collects more data on deaths in custody.
AP News and CNN.com contributed to this report 

Managing Editor
Penny Dickerson is a journalist joining The Miami Times following an Africa sojourn and 10-year freelance career in newspaper and magazine. She earned her MFA in creative writing from Lesley University, and BA in Journalism from Temple University.