The 31-year-old actress is quarantined and training for her upcoming role in The Batman.
Apr 29, 2020 ; Updated Apr 29, 2022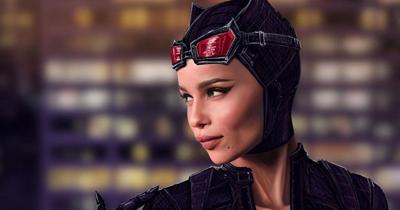 The femme fatale role Catwoman affords every size-stwo sextress the license to wear a slick catsuit and crack a whip while getting paid. It catapulted Eartha Kitt on the stardom scene, and in 2004, Halle Berry widely publicized the role, but the performance and film reviews tanked her career. She is still purring for respect 15 years later.
Now, a Kravitz has next, but I'd be lying if I said my intrigue was bothered. There is only one Kravitz of fame who has ever been on my radar and that's Lenny, the soul swooning daddy who is the barometer of cool and all things hip. And while the heart throb known as "Romeo Blue" is probably confident enough to cross-dress as a cat, the role of mention belongs to his daughter.
Zoë Kravitz is the next Catwoman in The Batman, and she's been training hard during lockdown in preparation for her role. The sole daughter — who inherited the flawless genes of the union between mother Lisa Bonet and her rock legend Papa — has been knighted the next, wall-climbing, feline-vixen to grace the screen.
The 31-year-old actress, who currently stars in the "Big Little Lies," is playing the role of Gotham City burglar Selina Kyle in Matt Reeves's upcoming take on the DC Comics superhero, which stars Robert Pattinson as The Dark Knight.
Consistent with most major film studios, production on the movie has been halted due to the Coronavirus pandemic. But what's a cat in waiting to do? Nothing short of maintaining her current hour glass figure, guarding her mindset and adhering to a strict workout regime.
In an interview with Vanity Fair, Kravitz responded with the following when asked if she had been exercising while in quarantine: "Yeah. So, I mean, it's not like the studio called and said,
'Don't get fat, b—-!' But I had been training now for maybe four or five months, and the first couple weeks that I self-quarantined, I remember texting the director, I texted Matt and I was like, 'We might have to make the catsuit a few sizes bigger when this is over.'
"So I quickly decided to get my act together, and I've been working out virtually with my trainer David Higgins five days a week. And it's actually been really great because it's been giving me some kind of structure because I do it at the same time and it also makes the weekends feel like a weekend because I don't work out on the weekends and it gives me just, oh, it's a different kind of day. So, it's actually been really great just for my mental health."
According to Kravitz, being sheltered has preyed on her weakness. The results have manifested in a little more indulgence in food and wine — two of her admitted weaknesses.
"Food and wine are kind of the only things bringing me joy right now," she reportedly said. "So I'm definitely eating whatever I want. But yeah, try to stay in decent shape so I don't have to start from scratch. I've been training a ton too, which has been great and hard."
Kravitz previously admitted that she had been coming home "limping every day" from her Catwoman training sessions. Well, suck it up Kravitz. You'll be fine. While you didn't grown up on the Southside of Chicago being chased down alleys or hopping subway turnstiles in Bed-Stuy, both your parents wear silver nose hoops, so that gives you a moderate pass to claim being inherently "tough" on some level.
Let's just hope there's a movie theatre in business to see The Batman when the world reopens. Let's collectively prepare to applaud Kravitz for a job well done in a role she can definitively redefine on her own terms.

Penny Dickerson is a journalist joining The Miami Times following an Africa sojourn and 10-year freelance career in newspaper and magazine. She earned her Master of Fine Arts in creative writing from Lesley University, and Bachelor of Arts in Journalism from Temple University.