Miami Dolphins owner Stephen Ross funds Miami Gardens Food Relief Program.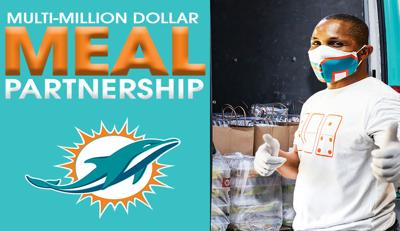 Food scarcity and job loss in the city of Miami Gardens are being aggressively addressed through a multi-million dollar partnership announced May 26 and funded by Miami Dolphins owner Stephen Ross and the Miami Dolphins Foundation. The Miami Dolphins Food Relief Program is scheduled to launch on June 1 and will provide a minimum of 1,000 meals to families in need through a voucher system — Monday thru Friday out of Hard Rock Stadium. The initiative is expected to last one year, and meals will be prepared by Centerplate, the team's food, beverage and retail partner.
On Sundays, the Dolphins will partner with the faith-based community including area churches, local leadership, and community groups to purchase food from local restaurants to provide a minimum of 1,000 meals each Sunday that will be distributed to those dealing with food insecurity.
Ross and the organization will invest $2 million in the Miami Dolphins Foundation Food Relief Program and will campaign to raise an additional $1 million by matching all dollars raised by the South Florida community and Miami Dolphins fans worldwide for a potential $4 million total impact.
The economic toll of the COVID-19 pandemic created a food crisis that spared no socioeconomic class level. From unemployment to the sudden transition of households with children home from school during the day and the emergent needs of Miami-Dade County's elderly and most vulnerable population, everyone was financially affected. For many, pride morphed into humility and forced them to pursue drive-thru, food giveaways. Now, the Food Relief program will offer a free, nutritious meal.
"I commend the Miami Dolphins Foundation, owner Stephen Ross and CEO Tom Garfinkel for their commitment to the residents of our community," said Miami-Dade County Mayor Carlos A. Gimenez. "They have set a high standard for others to follow as we all work together to provide food and jobs for those hit hardest by this pandemic."
COVID-19 forced stadiums across the nation to go dark. Most fans mourned the loss of the NCAA tournament or their favorite sports season, but numerous major events across the country like Hard Rock Stadium's Jazz in the Gardens were also canceled. As a result, thousands of hourly wage workers, some of whom were career employees, were left unable to pay rent or provide for their families without having health insurance or paid sick leave.
When the NBA suspended its season in March, Golden State Warriors general manager Bob Myers told USA Today, "We feel for the workers, mostly, the low-income wage earners that count on working our games. If you're going to have empathy, have it for them, not for us."
The Food Relief program will generate jobs and revenue for the local restaurant industry while employing guest services and security staff at the stadium that have been idled as a result of COVID-19-related event cancellations.
"We are committed to combating food insecurity and helping to provide consistent employment as the first step in rebuilding our community, starting in Miami Gardens," said Ross. "We are thankful for the strength that our community has shown through this pandemic and it's our hope that this program will inspire others to give."
The Miami Dolphins Foundation Food Relief Program expands the Miami Dolphins' efforts to combat food insecurity in South Florida. In March, the organization gave $500,000 to help meet the critical needs of the elderly and youth in the community. These funds were used to support school meal programs for Broward County Public Schools and Miami-Dade County Public Schools, relief efforts led by churches in Miami Gardens, and to bolster programs from Feeding South Florida to provide access to food for underserved populations in the area.
The Miami Times reported on April 22 that Ross also funded a $250,000 grant along with the Miami Dolphins Foundations that enabled four Miami Dolphins alumni and restauranteurs, including the late legendary coach Don Shula, to provide breakfast, lunch, and dinner options to those most at-risk. They included John Offerdahl, Offerdahl's Off-The-Grill; Kim Bokamper, Bokamper's Sports Bar & Grill; Bob Brudzinski, Bru's Room Sports Grill. Over a three-week period, the restaurants delivered 35,440 meals and Pepsi provided 65,644 bottles of Bolt24.
The aforementioned Miami Dolphin team stars are all engaged in the food service industry and collectively teamed up to provide free meals to vulnerable populations severely impacted by the COVID-19 crisis, all while helping to keep workers from their restaurants employed and on the payroll. One month later, that need continues.
"Unemployment is growing and a lot of people are suffering and need help," said vice chairman and CEO Tom Garfinkel. "It was important for us to start at home and help the most vulnerable in our community with a long-term commitment; not just a one-time event."
In addition, Dolphins and Truist as part of its Truist Cares initiative partnered to support local small business and provide meals to the South Florida community as a result of the global COVID-19 pandemic. More than 2,700 pre-packaged meals were prepared by local food trucks and delivered to Miami Dolphins FOOTBALL UNITES™ community partners over a six-week period.
Mayor Oliver Gilbert welcomes the Food Relief initiative to his community as one more step in a positive direction toward a return to normalcy and economic restoration amid the pandemic.
"Given the uncertainty of this crisis, all hands should be on deck, and all available resources tapped," said Miami Gardens Mayor Oliver Gilbert. "The Miami Dolphins organization is stepping up and providing needed support for our residents as we continue to fight against COVID-19."
Individuals and businesses that wish to participate in the matching gift program can donate online at dolphins.com/meals. All gifts are tax-deductible with 100 percent of the funds raised directly benefiting food relief.
All donors who contribute over $50 will receive a special Miami Dolphins FOOTBALL UNITES™ gift from Ross and Garfinkel to show appreciation of participants in this matching gift campaign.

Managing Editor
Penny Dickerson is a journalist joining The Miami Times following an Africa sojourn and 10-year freelance career in newspaper and magazine. She earned her MFA in creative writing from Lesley University, and B.A. in Journalism from Temple University.