A new study offers Black Americans some valuable tips on how to avoid eviction after the devastating impact of the coronavirus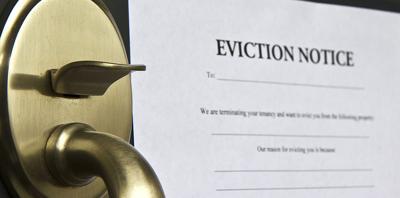 The reality of rent and the inability to pay landlords remains a dilemma for scores of Americans financially impacted by the COVID-19 crisis that continues to hurl economic blows at low and middle-class residents, specifically people of color.
A resolution presented June 16 at a Miami-Dade County Board of County Commissioners meeting by the Honorable Chairwoman Audrey M. Edmonson amplified the dire straits of local residents. The resolution's background stated that even before the COVID-19 pandemic, Miami-Dade County was designated as one of the most cost-burdened jurisdictions for housing in the United States. Well over 50 percent of households in Miami-Dade County must pay 30 percent or more of their incomes for housing.
Edmonson's resolute sought to direct the County's attorney to create the coronavirus disease 2019 (COVID-19) Emergency Rental Assistance Program (ERAP) for rental assistance grants to low- and moderate-income persons in Miami-Dade County that have lost income as a result of the COVID-19 pandemic; allocating $10 million of funds that the County has received pursuant to the 2020 Coronavirus Aid, Relief, and Economic Security Act (CARES Act) for the ERAP.
Beyond the fancy acronyms and municipal language, the bottom line is that $10 million in funding was available for distribution in June but is now placed on hold. Edmonson's resolution was blocked when Commissioner Esteban "Steve" Bovo, exercised his right to block any legislation submitted late for the day's agenda. The candidate for County mayor reportedly called, "the process rushed" and said he had questions about how the rental assistance would be managed and the allocation of federal funds.
Commissioner Bovo's measure to stall will hold rental-relief funding beyond the County's June 30 eviction extension into July and the board's next meeting. More than 15,000 local renters will be affected, many of whom are Black American renters in jeopardy of losing their households.
With some 50 million people renting and many perhaps incurring job or income misfortune because of the crisis, renters in 11 American states and Puerto Rico are among those at the greatest risk of enduring housing instability,  according to a new analysis by The Ascent.
A Motley Fool firm, The Ascent reviews financial products including credit cards, savings accounts, mortgages, and other items to help people make informed decisions on money matters.
The Ascent used government data to determine the areas with high jobless rates and where renters shell out a big percentage of their income. The report presents many reasons why such circumstances are a more bleak picture for renters than homeowners. Among them:
Renters could potentially be priced out by landlords who opt to raise the rent. In contrast, homeowners with fixed-rate mortgages won't see their monthly payments rise.  And homeowners who have fully purchased houses can live there as long as they pay the taxes.
Renters can't take advantage of seeking home-equity loans or using cash equity from refinancing to help make ends meet through a job loss. Those are options for homeowners, and people renting typically make less money than homeowners.
The report also examined reasons why renters are more defenseless to the pandemic economy. They've already spent at least 30% of their incomes on housing, consisting of some 47% of renters. They now earn less than 30% of their area's median income than before the pandemic. The Ascent says that number at last count was 11 million. Another pitfall: many renters live in states with high unemployment rates or low unemployment benefits. They also work in industries suffering from great job losses stemming from the pandemic such as tourism and hospitality.
Tips For Renters
But renters may do well to consider taking actions to help keep their households.  Matt Frankel, a certified financial planner at The Ascent, offered tips to for renters potentially facing displacement.
What are steps renters can take to avoid the prospect of being evicted?
The best move you can make if you're struggling is to talk to your landlord. As a rental property owner myself, I can tell you firsthand that most are quite sympathetic to tenants who have had their incomes disrupted. Maybe you can offer to get caught up over time or make some other arrangement. If you've been an otherwise great tenant, it isn't uncommon for a landlord to allow you to apply your security deposit to your rent to help you stay current. But the key is starting the conversation."
Why should renters take these steps now? What are the main downsides if they don't?
If you're falling behind on rent, the worst thing you can do is ignore the problem — even if you live in a state that has put a hold on evictions. That rent will come due eventually. Some people believe that a moratorium on evictions is the same thing as a temporary break from rent, but this is simply not the case.
According to Bloomberg.com, the end of state eviction moratoriums has exposed the limits of the protections for tenants at the local, state, and federal level. Under the CARES Act passed by Congress, for example, tenants who live in a property with a federally backed mortgage can't be evicted. This protection supersedes any expiring state-level eviction moratorium — but only if the tenant knows that the CARES Act applies to their circumstances.
"Those tenants can't be evicted — they can't even get a notice of eviction until the end of July," Marra says. "But there's nothing put into place in many of these courts to enable a judge to routinely make sure that a landlord is testifying or swearing under oath that his property isn't covered."
"We've been telling people: You need to pay the rent when you can," says Mark Grandich, litigation director at Lone Star Legal Aid. "There's going to be a day of reckoning."
The looming deluge of evictions involves complicated interactions with the justice system. For example, in Texas, landlords filed some 1,400 cases over the months during which the moratorium was in effect (many of which should not have been filed at all, under the CARES Act). During the interim, Texas only allowed evictions to proceed that involved illegal conduct — a valid concern for landlords, but also a concession to law enforcement, since jails were releasing prisoners and police were reluctant to make arrests.
Are there other options tenants facing financial hardship can take that you'd like to discuss? Would it make sense to open up a credit card or personal loan to pay rent?
If you have strong credit, a personal loan can be a useful tool for giving yourself financial flexibility during tough times, assuming you can afford the monthly payments. Some of the best personal lenders will make loans for as little as $2,000, so you don't necessarily need to borrow a large amount of money to pursue this option. On the other hand, I generally discourage using credit cards to pay rent — not only do many landlords not take them, but interest rates tend to be far higher than with personal loans.
Blackenterprise and Bloomberg.com contributed to this report