Mayor Carlos A. Gimenez launches random testing initiative that should reflect diversity.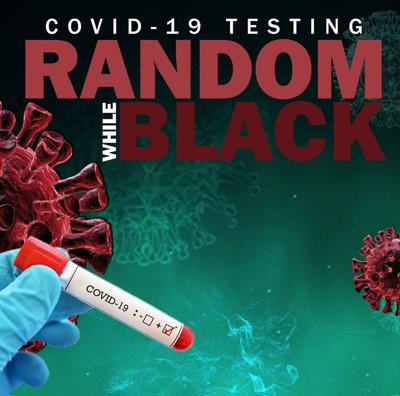 Mayor Carlos A. Gimenez launched a Miami-Dade County COVID-19 testing initiative on Friday, April 3 during a virtual press conference. The public, private and academic partnership is designed to measure the rate of coronavirus exposure in the community and better direct resources to respond to the pandemic. But controversy abounds.
The multi-week project titled Surveillance Program Assessing Risk Knowledge of Coronavirus (SPARK-C), randomly selects 750 county residents. Allegedly, they represent the county's diversity with respect to age, gender and ethnicity, race and other demographic and geographic focus of diversity.
While SPARK-C may appear a study shining in armor, Blacks are likely to be tarnished in the end. The study includes multiple correlations that may influence biased results. Despite the county's attempt to amplify diversity, the surveillance project mirrors studies that historically yield prejudicial outcomes for Blacks.
"The surveillance may allow the county to identify 'clusters' of the virus, and could identify people who are infected but do not know it," Gimenez said. "Having that information will allow us to get ahead of what's happening on COVID-19 and guide us as to how to best to use our resources to stop the spread of this virus."
Blacks mistrust research
Surveillance, clusters and identify are three words not embraced by Blacks who already mistrust medical research. The National Institute of Health cites the latter as an important barrier to research participation and recommends that researchers incorporate strategies to reduce mistrust and increase participation among Blacks.
SPARKS-C partners exemplify no such strategies. Numerous South Florida residents who are asymptomatic have desired testing, but do not meet existing criteria. COVID-19 testing at drive-thru sites have been limited to people over age 65, first responders, those with compromised immune systems and people who presented with coronavirus symptoms.
This County study does not broadly change that. You cannot volunteer to be tested; you must be randomly invited via an auto-generated phone message from Gimenez. Those selected are then screened by University of Miami Miller School of Medicine public health students.
Based upon responses, participants are instructed to report to one of 10 designated fire department sites for a rapid blood test that analyzes antibodies in blood to detect exposure to the coronavirus. Results are available within 15 minutes. Participants are asked to meet weekly through the study's duration.
The study's process sounds straightforward, but in a county whose population is 2.8 million and comprised of 17 percent Blacks, random selection of 750 persons over four to six weeks continues to leave a multitude out of the testing loop.
Civil Rights attorneys chime in
The SPARK-C partnership includes two veteran researchers, Erin Kobetz, PhD, MPH and Alberto Caban Martinez, PhD, DO, MPH. Both are veteran UM Miller researchers who could have played a more unique role in the study by encouraging Gimenez to extend a message to Blacks: inclusion in SPARKS-C is not calculated or subjective, nor is exclusion biased. There is no Black representation in the core partnership —academic, private or public—for this vital project.
"We are deeply concerned that African American communities are being hardest hit by the COVID-19 pandemic, and that racial bias may be impacting the access they receive to testing and healthcare," said Kristen Clarke, president and executive director of Lawyers' Committee for Civil Rights Under Law.
"Equal access to healthcare is a critical civil rights issue, and during this novel pandemic, the public deserves nothing less than full transparency from this Administration and state public health officials.  To fully confront this pandemic, we must ensure that communities of color receive equitable health care and treatment during this crisis. Comprehensive and publicly-available racial data is a necessary weapon in the fight to confront COVID-19."
The Miami Times reported on September 28, 2018 that the National Institute of Health had funded UM with $60 million to gather participants in a nationwide data collection platform of health records. Recognizing that research barriers with Black populations, the university was advised:
"There is a fear and mistrust that the Black community has with any type of health care provider and especially when they are taking something from them," said Dr. Nannette Funderburk, board member at the Greensboro Medical Society, which is America's oldest Black doctors organization founded in 1927.
"UM must get around this distrust if only to reach its goal of gathering a diverse group of participants in South Florida in a massive medical research study called "All of Us," added Funderberk.
Little Haiti connection
In 2004, Kobetz established Patnè en Aksyon (Partners in Action), a campus-community partnership between Sylvester Comprehensive Cancer Center and key community-based organization in Little Haiti, the predominately Haitian area in Miami. That partnership has garnered over 20 million dollars in extramural funding to address the excess burden of cancer experienced by the Haitian Diaspora.
During Friday's virtual dialogue, Kobetz declared, "There are 8 to 9 positive results for every one1 reported to the Dept. of Health. We are looking at who's infected and what we can collectively do about it. The surveillance will allow the county to estimate the burden of the disease, including individuals who are asymptomatic."
According to Gimenez, the study seeks to examine government order and how the outcome will impact daily decisions moving forward.
"If we discover a big cluster, more aggressive measures will be recommended for that geographic area," said Gimenez.
Why a rapid blood test?
The Food and Drug Administration has cautioned that serology tests "should not be used as the sole basis to diagnose or exclude [coronavirus] infection or to inform infection status."
SPARK-C is using a new, point-of-care test that confirms current or past exposure to COVID-19. Manufactured by BioMedomics, a clinical diagnostics company, the test has not been reviewed by the FDA but is permitted for distribution and use under the public health emergency guidance issued by FDA on March 16, 2020.
Disaster Management Group is a key partner and South Florida-based test distributor. The company is charging the county $17 per test for 20,000 tests and has agreed to kick in an additional 2,000 tests for free.
In a March 20 interview with BioWorld, Matt Wideman, director of DMG stated, "…The project called for the distribution of 50,000 DMGtest units for first responders and the homeless as well as a random statistical set analysis."
Gimenez indicated that criteria for a separate study for first responders is still being developed.
Methodology linked to HIV/AIDS
The HIV rate in Miami is nearly four times the national average with 54 new diagnoses of the virus for every 100,000 people — making it the highest HIV rate in the country. According to testingmiami.org, Blacks comprise 41 percent of the County's HIV cases and 50 percent of persons with AIDS.
The County's decision to use a rapid blood test may be related to prior research by Kobetz that employed quick methods. A 2009 abstract published by the American Public Health Association, stated that during her scientific focus of Haitian women and cancer, Kobetz followed advisement of, "community leaders who encouraged use of rapid assessment surveys, which are short, five to 10 minute interviews, typically administered in community venues that enable a crude assessment of a community's health behavior practices. Rapid assessment surveys were initially developed by the US Department of Health and Human Services to examine the HIV-associated risk behaviors in US cities disproportionately affected by AIDS-related mortality."
The first Miami-Dade County death from coronavirus was a 40-yearold male. Israel Carreras was also the County's youngest person and reportedly had no underlying health issues. He was a member of the LGBTQ community.
Colorado blazed the trail
According to Gimenez, Miami-Dade County is, "the largest by far that's taken this endeavor on." But Telluride, Colorado did it first. In an effort to determine how widespread COVID-19 was in their community, the county embarked free COVID-19 testing for all of its 8,200 residents. No one was randomly selected.
Dubbed an "experiment," the county also did not pay for the project. Two biomedical company executives, who are Telluride home owners, funded the efforts. The following was reported March 19 by Allison Sherry of CPR News.
"This is a mental health issue. People are isolated, people are scared … What they need is information and transparency. This is about empowering people," said Lou Reese, co-CEO of United Biomedical/c19, which is performing the blood tests.
The end result for Telluride's San Miguel County offered "uncertainty." Of the almost 1,000 people tested for COVID-19, thus far, eight tested positive and another 23 have either indeterminate or borderline results.

Penny Dickerson is a journalist joining The Miami Times following an Africa sojourn and 10-year freelance career in newspaper and magazine. She earned her MFA in creative writing from Lesley University, and B.A. in Journalism from Temple University.