Are their encounters with law enforcement part of a vicious cycle or by design?
---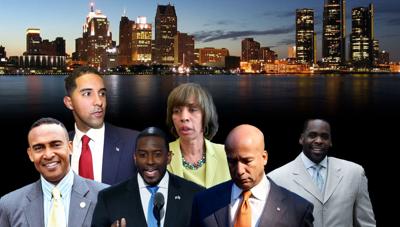 Andrew Gillum, Patrick Cannon, Ray Nagin, Kwame Kilpatrick, Marion Barry, Richard Thomas and Catherine Pugh all share a common title: Black American mayors. They share a common fate, too. They have either been accused of criminal behavior; been previously or is currently being investigated; or worse, been imprisoned in connection with the job of leading a municipality. At a minimum, when the government comes sniffing, it leaves reputations in tatters.
This is but a shortlist of Black power symbols, either toppled or shaken during their meteoric rise, while they tried to transform underserved communities.
In the book, "African-American Mayors: Race, Politics, and the African-American City," political historians David R. Colburn and Jeffrey S. Adler aptly illustrate their plight:
"Black mayors assumed office during economic downturns and confronted the intractable problems of decaying inner cities, while flight, a dwindling tax base, violent crime, and diminishing federal support for social programs. Many encountered hostility from their own parties, city councils, and police departments; others worked against long-established power structures dominated by local business owners or politicians. Still others, while trying to respond to multiple demands from a diverse constituency, were viewed as traitors by Blacks expecting special attention from a leader of their own race."
Black mayors demonstrate how the same circumstances that set the stage for the victories can exaggerate the obstacles and accusations. For Florida, bitter is the memory of not only the defeat of former Tallahassee mayor, Gillum, but also a mounting probe that some say was a direct cause.
In January, Florida Commission on Ethics found probable cause to investigate Gillum, who allegedly received gifts valued over $100 while in office in the form of a stay at a Costa Rica Villa, a Broadway ticket and a boat ride. Ethics commission advocate Elizabeth Miller recently requested that Administrative Law Judge E. Gary Early delay a decision in Gillum's hearing for five months to accommodate the mayor's former comrade-turned-Judas, lobbyist Adam Corey, who insists his ill attorney's presence is essential for him to testify.
Two weeks ago, Early received yet one more motion by Miller to hold the record open until August and defer any judgment.
Gillum is represented by Barry Richard, a prominent Tallahassee attorney who once represented George W. Bush in legal battles over the 2000 presidential election.
"Granting the motion to hold the evidence open until August would render the denial of a continuance meaningless, and [Gillum] would still be forced to wait several months with a cloud hanging over his head," Richard said.
Dark days for Black mayors
That cloud has become a familiar threat following a wave of Black mayors who have positively transformed American municipalities formerly plagued by violent crime, poor education and quality of life. In ground-breaking elections, these audacious leaders defeated incumbents, most have enjoyed a season as media darlings and some are singled-out as futurists by analysts nationwide.
By all accounts, Black mayors are their own new black until the emergence of a crippling shift — allegations of corruption are lobbied. These charges, which have the dubious commonality of emerging following an FBI presence, run the gamut from ethics misconduct to conflict-of-interest and criminality. Too often, they relegate Black mayors from an illuminated status to being blindsided targets who suffer public disdain. The frequency of their fall has created a historical quandary.
Ill-fated fraternity
Patrick Cannon is 52 years old and made a quantum leap from mayor of Charlotte to ex-convict. In 2014, he was released from a Federal Corrections Institution in Morgantown where he served half of a 44-month sentence on charges of accepting more than $48,000 in bribes from undercover FBI agents; two years of supervised release followed. Cannon paid a $10,000 fine and $50,000 in restitution, and resides in suburban Charlotte where he hosts a community affairs radio program.
Additionally, he is a corporate and skilled labor executive and a marketing and business development consultant. There is buzz of a political comeback. Cannon may run for one of the four at-large council seats, which many believe is a precursor to a congressional bid in 2020. (Filings are July 5 – 19; election Nov. 5). Cannon first won a council seat in 2011 prior to being elected mayor.
In 2013, Cannon was elected mayor of Charlotte, North Carolina. Five months into his term, he was arrested and charged with accepting more than $48,000 in bribes from undercover FBI agents posing as businessmen seeking city contracts. Cannon served half of a 44-month sentence.
Nagin, former New Orleans mayor, was convicted in 2014 on 20 counts of wire fraud, bribery and money laundering related to Hurricane Katrina. He was sentenced to 10 years in federal prison. Former mayor of Detroit, Kilpatrick is serving 28 years in a federal prison for mail fraud, wire fraud and racketeering.
And the demise of Capital City Mayor Marion Barry arguably reigns as the most prolific example of a Black mayor who both murdered and resuscitated his own career. Barry was an unwitting part of a 1990 FBI sting. He was videotaped in a hotel room smoking crack cocaine, arrested and subsequently sentenced to six months in federal prison. Upon his 1992 release, Barry was elected to the D.C. city council and re-elected mayor in 1995.
Marvin Dunn, a Black historian, and former city of Miami mayoral candidate, acknowledges that Black politicians are more vulnerable.
"Once you become high profile, you're subject to investigation. You're over-policed by media and prosecutors looking for dirt," he said. "There is a certain amount of targeting going on."
Data and demographics
Suffice to say that life for the Black mayor "ain't been no crystal stair. It's had tacks in it, and splinters, and boards torn up." This excerpt from Langston Hughes' iconic poem is an unfortunate fit for a political cohort that simultaneously grows and weakens.
"Black mayors in big cities are already surrounded by criminal activity," said Dunn, retired chairman, of the Department of Psychology, at Florida International University. "There is a higher propensity for bribes, extortion and black mail – significantly more than in suburban areas. There is greater temptation."
According to governing.com, a digital platform for "States and Localities," "In 2000, there were 19 Black mayors in the 50 largest American cities. In 2018, there were seven … ."
"Part of the challenge is many African-Americans have left places … where Black politicians once held significant power," offered Michael Leo Owens, an Emory University political scientist.
On April 2, the people of Chicago proved political power is still theirs.
Lori Lightfoot was elected the first Black woman mayor. A campaign long-shot, Lightfoot swept all of Chicago's 50 wards. When she's sworn in on May 20 as the city's 56th mayor, will she dodge scrutiny or join the statistical ranks of Black mayors whose triumph historically comes under attack?
Relegate the rising stars
Gillum championed America's political landscape when he was elected Tallahassee mayor in 2014. He inherited Leon County, a mecca for higher education but the state's leader in crime according to data and a city where murder reached record highs. Among his intrepid moves, in 2015, Gillum petitioned former Gov. Rick Scott to declare a state of emergency that would suspend the "Stand Your Ground" law.
The Miami native lost that battle, but later won a political war: he was elected the 2018 democratic nominee for governor to become Florida's first Black gubernatorial candidate. Following a dynamic campaign that garnered a razor-thin margin of votes, Gillum conceded to Republican opponent Rick DeSantis. Now, Gillum's days are shadowed by accusations, juxtaposed against New York Times columnist Frank Bruni's label as one of his "14 Young Democrats to Watch."
New mayor, same pattern
On April 5, Douglas J. Martino of the New York firm Martino & Weiss, filed a "Motion to Dismiss" charges that likely shouldn't exist against their client, Mayor Richard Thomas of Mount Vernon, New York.
An excerpt reads: "The mayor is being selectively charged with campaign violations that at worst should have been processed administratively and two counts of filing allegedly false Financial Forms with the City Ethics Board for crimes that not only do not exist … . Moreover, because the Mount Vernon Board of Ethics is illegally constituted, the charges involving required campaign reporting are non-existent and must be dismissed."
In 2018, Thomas was arraigned on criminal charges as part of a local government corruption probe by the New York State Attorney General's Office initiated days after Thomas won his 2015 primary. The state inquiry led to local government matters and campaign finance technicalities. Now, he faces charges of third-degree larceny and filing false information with the city's Board of Ethics. Thomas pled not guilty and was freed without bail.
Thomas catapulted his way onto the political scene in 2015 when he was elected the city's youngest mayor in Mount Vernon in a landslide victory. He was 33, married with two young children, educated and with his boyish good looks, any political consultant would dub him a constituent magnet.
Qualified for greatness
The City of Hope's optimistic leader earned both a bachelor's degree in economics and an executive MBA in finance and leadership from New York University's prestigious Leonard N. Stern School of Business; he additionally studied at The London School of Economics & Political Science. A reverent think-tank who excels in due diligence, quantitative analysis, branding and marketing, Thomas previously served as executive director for the New York Affordable Reliable Electricity Alliance and regional director for the New York State governor's office.
But, despite pristine qualifications that precede political zeal and proven electability, Thomas stands accused of "stealing more than $12,000 from his campaign committee "Friends of Richard Thomas" and then lying about it. He is also accused of failing to report items on his city ethics forms that are not legally required and was indicted for not reporting said items before the deadline to submit the forms. Westchester County Court Judge Barry Warhit will likely set a trial date and hear arguments on the dismissal of counts 7 and 8 on April 19.
A Bevy of bravos
The beauty of the Baltimore Harbor has long remained a backdrop to the city's poverty, violent crime and burgeoning drug trade. Eliminating the latter three has been an impossibility, but curtailing their dominance is one that Mayor Pugh has tackled both with grace and success.
Pugh has earned a bevy of bravos. She pursued an aggressive agenda to revitalize neighborhoods, create pathways of opportunity for young people and enhance the safety of citizens, while ushering in a new era of community policing and accountability within the Baltimore Police Department.
Circa 2019 — Pugh is on an indefinite leave of absence as mayor of Baltimore due to health. Maryland Gov. Larry Hogan has asked the state prosecutor to investigate Pugh regarding a conflict of interest stemming from an alleged no-bid book deal with the University of Maryland Medical System valued at $500,000. It is alleged that the university benefited from more than 40 bills sponsored/co-sponsored by Pugh while she served on the board of directors and subsequently purchased copies of Pugh's self-published "Healthy Holly" books for children, which were then distributed to Baltimore schools and daycare centers. Pugh was paid $500,000 for 100,000 books over the course of five transactions in years 2012 – 2018.
In a statement to the New York Times, state comptroller Peter Franchot stated, "This is a window into the shadowy, seamy side of politics, where powerful insiders self-deal. I haven't gotten over the shock of it. It's almost juvenile." Franchot has called for an independent audit.
Less reported are numerous occasions when Pugh donated free books to neighborhood events. While she has been asked to resign, Pugh does not face charges.
Same treatment for white mayors?
Political corruption is not specific to Blacks. White mayors and politicians have also been subjects of investigations, convicted and jailed. However, disparity reigns, as recent history reveals that the treatment of Black and white mayors is not the same.
New York City Mayor Bill de Blasio, back in the spring of 2017, narrowly escaped federal indictment on corruption charges of pay-to-play. He allegedly used city money to successfully defend himself from various election and government corruption allegations. One of de Blasio's top campaign donors was convicted, yet the mayor stated the case, "didn't involve him." De Blasio has moved forward without recompense of lingering clouds and is courting a 2020 presidential bid.
Thomas of Mount Vernon identifies a disturbing pattern: "The history of attacks on Black mayors is troubling. If you are bold and buck the system to benefit the people, the system strikes back by any means necessary. The pattern and practice suggest that there is a double standard. This is why the next generation of leaders must level up to survive the suppression and seize every incremental opportunity to protect the people."