Three gatekeepers of COVID-19 death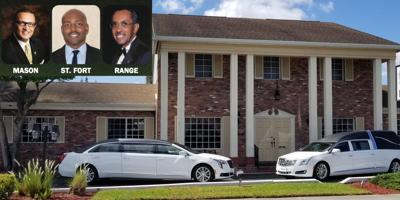 The business of burying the dead six feet deep has been compromised by a mandate that keeps mourners six feet apart. COVID-19 is changing the way America lives and how swiftly we die. The virus now serves as a torch for final breaths passed from hands on the front lines to the care of last responders.
Miami Shores mortician Gregg L. Mason laid to rest a 29-year-old young woman in April during the height of a pandemic. Her celebration of life was not a funeral, but rather a private family service held in the chapel and attended by ten closest next of kin.
The guest book familiar to somber occasions was perched on a podium along with a fine point pen. Both were manned by staff, and each were carefully wiped with sanitizer after a signature was scribed. Clergy stood close by wearing masks.
"There has been a change. It is totally out of the norm to see a funeral with only ten people due to social distancing," Mason told The Miami Times April 11.
"People waited for an hour and waved in the sunshine as the coach led her remains all the way down 6th Avenue to the cemetery for interment," Mason added.
This year marks the 25th anniversary of Mason's funeral home serving a rainbow of people. His clientele includes a Haitian contingency that traditionally attend funerals in droves. That, too, has changed along with Mason's dual role as counselor."
"One of the most important aspects of bereavement is to extend physical reassurance, and at Gregg Mason we're known for that touch," Mason shared.
"I catch myself now when offering comfort. It's difficult to refrain from doing so."
Prestigious roots
The allure of warm weather enticed Mason to migrate from Chicago to Florida in 1995. In shy town, he worked for the prestigious Earnest A. Griffin funeral home, the proprietor who handled arrangements for noteworthy Blacks including the honorable Elijah Muhammad and the Johnson publishing family of Ebony magazine fame.
In a career spanning four decades, the funeral director and graduate of Southern Illinois University in Carbondale has witnessed firsthand how disease can be a determinant for widespread change.
Coronavirus and AIDS
"We've embalmed three bodies with coronavirus. All have been in their 90s and some from nursing homes," said Mason. "Either the family or hospital would inform me and the medical examiner actually came to our facility to test and confirm their status. In one case, the family disclosed coronavirus as cause of death."
Mason recalls how the 1980s AIDS epidemic presented the funeral industry with many unknowns in the 21st century, COVID-19 is doing the same despite a drastic shift in social perspective.
"We were so afraid of AIDS cases back then, deceased weren't even embalmed. It was either direct cremation or direct burial," Mason explained. "As we grew more knowledgeable, universal protection for embalmers came up and later became law that we wear personal protective equipment."
More bodies, less room
The acronym PPE is arguably the crisis runner-up to COVID-19. Hospitals and healthcare workers don't seem to have an adequate supply, and the flow of dead bodies across state lines has called for refrigerated trailers to serve as makeshift morgues.
The Florida Dept. of Health reported 21,019 cases of coronavirus as of Monday, April 13. Florida has 470 documented deaths with more than 100 in Miami-Dade County.
The New York Times reported April 2, "On an average day, 158 people die in New York City from every imaginable cause. But with at least that number dying daily from the coronavirus alone…the usual method of funeral homes collecting bodies from hospitals and working with families to bury or dispose of them is being severely tested."
"The Miami-Dade population drastically differs from New York where there are countless of homeless without identification, but cremation is a liability" said Mason who confirmed that many South Florida funeral homes are overwhelmed with capacity.
"A colleague in Broward said he brought in a refrigerated truck to store bodies. You can always go back to claim a body if the next of kin shows up. If you cremate, you can't."
Evans St. Fort – Haitian son
One Miami family called upon Evans St. Fort when their relative in New York passed away from coronavirus. No facility or morgue had the capacity to accept his body, so the deceased was flown to a South Florida hospital and placed in the in-house morgue. St. Fort funeral home retrieved the deceased and helped plan arrangements.
Since 1980, St. Fort has offered full-service funeral and cremation services to the North Miami Beach community. The 41-year-old graduate of Miramar high school grew up in the industry. He is son to Yves St. Fort, a veteran mortician who owns three funeral homes across Haiti.
New normal funerals
"This week I've received two confirmed cases of coronavirus," he told The Miami Times April 3. "We deal with traditional clientele that follows the tradition of visitation after death and a church service. The pandemic has really changed that."
According to St. Fort, his businesses unique menu has always implemented computer technology during the planning phase. Phone conferences have proven to work well and virtual services have been a mainstay for years.
You only die once
"To comply with CDC protocols for social distancing, more families have chosen to livestream services," said St. Fort. "It's a tough mission but many are also choosing to stay in a holding pattern to see if the quarantine is lifted because they want many people to attend."
The Lynn University graduate earned an associate in science degree in mortuary science and garnered stateside training from a prominent mortician in Ft. Lauderdale. St. Fort's funeral home houses an onsite morgue with storage capacity for 16 bodies and said an embalmed body can be stored for up to three to four months. St. Fort has waived the storage fee during the COVID-19 crisis.
"I love what I do," St. Fort declared. "Helping people is a huge feeling, and you do a lot of things in life more than once, but you can only pass away one time."
Range – an established name
The family name, "Range" is a name dropper in the Miami-Dade County Black community. Located at 5727 NW 17th Ave., Range Funeral Home has an extended location in Coconut Grove and a namesake M. Athalie Range Chapel of Restful Peace in Homestead.
Award-winning mortician and industry leader N. Patrick Range, Sr. took the helm in 1960 following the death of his father and founder, Oscar L. Range, Sr. Third generation son N. Patrick, II is current manager and general counsel, and the legacy business owns bragging rights for guiding the 15-year training of Gregg L. Mason.
Obeying the rules
"We have had three funerals for those who have passed away from coronavirus," Range told The Miami Times April 13. "Funerals have long been a gathering of friends and family as the loss of a loved one is heartfelt, but we're just trying to obey the indications given by the health dept."
Range will hold an upcoming service where again, only ten immediate family members can enter the funeral home or travel to the cemetery.
"It's just not in the best interest to hold a viewing where people are sitting and chatting close together," said Range. "I want to do all I can to eradicate the virus and not do anything to help it spread."
Penny Dickerson is a journalist joining The Miami Times following an Africa sojourn and 10-year freelance career in newspaper and magazine. She earned her Master of Fine Arts in creative writing from Lesley University, and Bachelor of Arts in Journalism from Temple University.