Could Bryce Gowdy have been saved?
The late Bryce Gowdy was a star wide-receiver, Georgia Tech signee and "professed momma's boy."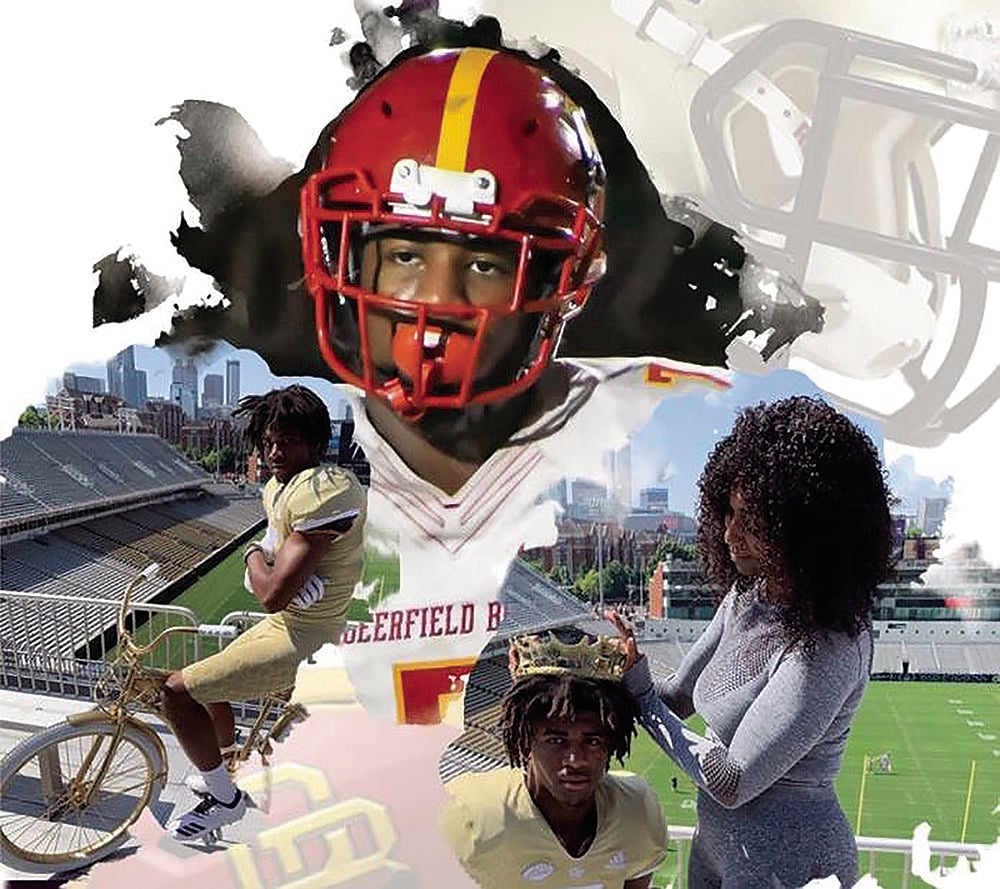 A 17-year-old young man of promise, Bryce committed suicide and left behind remnants of a life wrought with mental health challenges, a family in financial disarray and homelessness.
In the aftermath, reports flourished that a Black male laid down his burdens and body on a Florida railroad track and was struck by an oncoming train. A national outcry reverberated as Bryce was one child too many claimed by systemic neglect.
The latter serves as a backdrop to Bryce being a celebrated wide receiver poised to join Georgia Tech as a lauded recruit. Now, he will not be a Yellow Jacket at Billy Dodd stadium this season, another South Florida mother mourns a dead son and a community is charged with providing preventive measures to save more youth.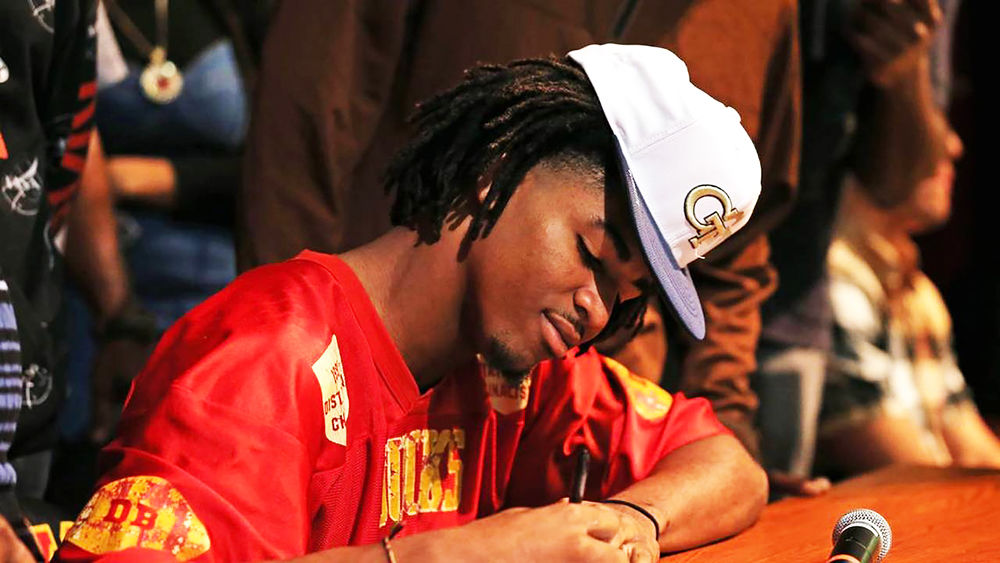 Bryce completed classes early at Deerfield Beach High School to join his future collegiate team. Georgia Tech offered the following statement on the football program's website:
"Our entire Georgia Tech football family is devastated by the news of Bryce's passing," Georgia Tech football head coach Geoff Collins said. "Bryce was an outstanding young man with a very bright future. He was a great friend to many, including many of our current and incoming team members. On behalf of our coaches, players, staff and families, we offer our deepest condolences to Bryce's mother, Shibbon, and his brothers, Brisai and Brayden, as well as the rest of his family members, his teammates and coaches at Deerfield Beach High School, and his many friends. Bryce and his family will always be a part of the Georgia Tech football family."
Broward County Public School district is the sixth-largest school in the nation and the second-largest in the state of Florida enrolling nearly 270,000 students. Bryce was one of those thousands and a definitive Black life who mattered. His mother referred to him as a "professed momma's boy" and sentiments shared by friends on social media refer to him as "handsome with a contagious smile."
Superintendent Robert W. Runcie and chair of the school board chair Donna Korn released a statement of their own Jan. 2 , days after Bryce's death. It echoed reports that "Bryce was an outstanding individual in every way – on the football field and in life…"
Deerfield High language arts teacher Tonyshia Fletcher posted the following
Jan. 02:
Dear Brycer,
It has been difficult for me to wrap my head around the fact that you're gone. I keep replaying our last moments in my mind & it literally breaks my heart. Had I known that it would have been our last conversation I would've stayed and talked with you longer."
A candlelight vigil was held at Deerfield Thursday, Jan. 02. A funeral is scheduled to take place in the school auditorium, Saturday, Jan. 11.
Bryce attended school as a homeless student who intermittently lived in a car with his mother and two siblings. The night of his death they checked into a local hotel. The space and time between their socioeconomic circumstances cast a shadow on whether Broward County Public Schools offered the appropriate services to adequately support Bryce.
Carole Mitchell, district homeless education liaison coordinator for the Homeless Education Assistance Resource Team (HEART), told The Miami Times that the program knew of Bryce.
"Bryce had been identified and registered in our system," said Mitchell, who deferred further comment to her supervisor, Dr. Laurel Thompson.
HEART SHOULD HELP
Responsibility for HEART includes upholding the McKinney-Vento Homeless Assistance Act of 2001, which was amended by the Every Student Succeeds Act of 2015. Federal laws protect the educational rights of students (PreK-12) who have lost housing and are living in transition, a page on the Broward School system's web site reads. "The ultimate goal is to remove barriers that might prevent students experiencing homelessness from enrolling, attending and succeeding in school."
HEART can provide transportation coordination for students to remain in the last school they attended, access to school supplies and uniform items, free school meals, referrals school social work services, family counseling, medical, dental and mental health referrals.
Family counseling and mental health referrals may have been the most important components to the resource team reaching its "ultimate goal" and removing barriers for Bryce and his mother, Shibbon Winelle. It is unclear if they received such services.
Winelle reportedly said that both she and Bryce were experiencing socioeconomic distress and suffered "demons" and Bryce displayed irrational behavior in his final days. "He was talking about signs and symbols," said Winelle.
"I been begging for help for months," said Winelle who refers to herself on social media as "Love Win," a mother musician and mystic. She is an orchestral level string bassist who was once gainfully employed.
Details of her family's downward spiral are blurred, and the timeline preceding Bryce's death is ominous beginning with Winelle's Facebook posts:
Dec. 29 at 10:49 p.m.:
"This birthday I thought I had everything. My handsome Suns were happy and healthy and my parents and family were a strong part of my life, I had a corporate job paying $50K a year with benefits, great girlfriends, a happy 2 and a half year situationship with a man. This was only 3 birthdays ago…"
The post then morphs to a bleak status:
This year I spent my birthday in my car with my Suns. My youngest is with friends, while my oldest stayed by my side all day and still by my side now tonight while we wait for my middle sun to get off work. No time with friends because no money or gas to waste, no parents or family because a year and a half earlier I addressed childhood traumas that caused a rift between us…"
Winelle reportedly sent Bryce to the car to fetch her favorite blanket. Barefoot and carrying no wallet, he never returned.
By 4 a.m. Monday, Dec. 30, his body was found near train tracks. Tuesday, Broward County medical examiners ruled his death a suicide.
MENTAL HEALTH SOCIAL STIGMA
Kisha N. Bazelais is a psychologist at the Miami-Dade Counseling Center where she is one of a few African-Americans on staff. She encourages Blacks to seek help when their lives start to unravel.
"Barriers to African-Americans receiving counseling exist because of [social] stigmas, even when sought in a private setting," she said. "I also manage my own private practice, and 70% of my client-base are people of color. Having the same ethnicity as your mental health professional is often what gets people in the door. People relate better to someone who they believe knows their culture, looks like them, and understands systemic issues."
The example of Winelle's family illustrates numerous Black families and students who suffer in silence. All do not end in death. More can be saved.
Rosalind Osgood is a Broward County school board member who is taking steps toward bridging communication between students and parents.
"A conversation has to take place in the African-American community. We're silent about mental health, and it's beginning to drastically impact our children," said Osgood. "As a school board member and a community leader, I have to do something to have this conversation start from a community perspective…the adults in the community don't understand."
A "Black History Mental Health Symposium" sponsored by The Links, Fort Lauderdale chapter and Broward College will take place at 1:30 p.m. Jan. 18 at Old Dillard Museum, 1019 NW Fourth St., Fort Lauderdale. Latasha Russell, a clinical psychologist, will moderate.
"I have several kids who will be on the panel. A couple have attempted suicide," said Osgood. "This is gonna begin the discussion."
Bryce represented an unfortunate suicide trend.
According to data published in the Journal of Pediatrics October 2019, suicide attempts among Black children and teenagers have increased by 73% since 1991. Further, suicide is the second leading cause of death for teenagers in the U.S., but over the period studied, suicide attempts decreased among teens in every ethnic group except for Black Americans.
"This group always reported much higher rates of suicide attempts than any other group except for Native American Alaskan Indians since 1991," said Sean Joe, a professor of social work at Washington University in St. Louis and one of the study's authors.
"So now we're seeing a stronger, significant increase – not only for males but also for Black females … the rise in suicide attempts among Black adolescents is marked by higher levels of hopelessness, increased stigma around mental health issues and lack of access to mental health care," said Joe.
National Suicide Prevention
Lifeline
1-800-273-8255