OneUnited Bank COO talks pandemic anger
May 20, 2020 Updated May 26, 2020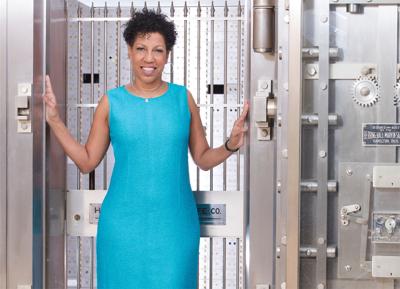 Who is more credible to speak on the angst and woes the pandemic has thrust upon the black community than an MBA who holds a degree from Harvard and dually serves as president and COO of a Black-owned bank? Teri Williams has emerged as an apt voice of reason and is currently head "She-in-charge" of OneUnited Bank. For 30 years she has dedicated her life to an industry that is often commercially elusive and a far-reaching star for Black small businesses that strive to shine.
But undeniably, Williams embodies an approach to banking that is "about that Black" as demonstrated by the social media hashtags her financial institution promotes: #BankBlackWithPride; #BankBlackWithEase; BankBlackWithPurpose.
In her current capacity, the Ivy League graduate is responsible for the implementation of the bank's strategic initiatives, as well as day-to-day operations which include retail branches, marketing, compliance, lending, information technology, customer support, legal, and human resources.
Her bragging rights run deep as she also graduated with distinction from Brown University, earning a bachelor of arts degree, and has garnered expertise from premier institutions such as Bank of America and American Express, where she was one of the youngest vice presidents. Her Magic City ties include serving as a board member of the 79th Street Corridor initiative and Williams , too, is bookish. She authored the savvy financial literacy book for urban youth titled, I Got Bank! What My Granddad Taught Me About Money and conducts financial literacy workshops across the country.
The aforementioned mouthful is readily balanced by an equally full heart. Williams reminds us that May is National Mental Health Awareness Month. While she is a finance juggernaut, Williams remains abundantly aware that scores beyond millions of Black Americans have suffered financially to such a degree, it has left them angry —and rightfully so.
She gives volume to an array of questions that fuel the emotion that leads to high blood pressure, anxiety, and sometimes simply, a sullen state of mind. Why wasn't America better prepared? Why don't we have access to more tests? Where's the vaccine? And why isn't there better healthcare available, particularly in the Black community?
The pandemic has disproportionately affected Blacks with regard to testing positive for the virus, hospitalizations and death. Financially, the demographic leads the population in furloughs, layoffs and downsizing. Labels aside, entirely too many Black people are unemployed.
According to an April 28 report in the Guardian, "…even before Covid-19 hit the US in full force and as the overall unemployment rate hit record lows, black Americans had an unemployment rate that was almost twice the national rate. In February 2020 when the overall unemployment rate was 3.5%, a 50-year-low, the black unemployment rate was 5.8%. The white unemployment rate was 3.1%.
"The usual relationship that we see between the national unemployment rate and the black unemployment rate is typically really close to a two to one," said Valerie Wilson, director of the Economic Policy Institute's program on race, ethnicity and the economy.
"Whatever is being projected for the national unemployment rate, in most instances, we expect to see something close to twice that for black Americans."
According to Williams, anger is an understandable emotion, but anger won't pay the bills. She instead encourages a sense of empowerment as cities across America begin to reopen and employers call for a return to workplace normalcy. The following represent four points Williams encourages the Black community to do now, with the last being the most important.
1. Check on your stimulus check. The IRS has already started sending out economic stimulus payments authorized by the Coronavirus Aid, Relief, and Economic Security (CARES) Act. If you have not received your stimulus money, here are 4 reasons why and what you should do about it. You may receive your stimulus money in the next round.
2. File unemployment. Nationally, almost 3 million new jobless claims were filed last week due primarily to the coronavirus pandemic, which has pushed roughly 36.5 million Americans into the unemployment lines since the start of March.
Unemployment insurance is a federal-state program, so the weekly payment will vary by state. According to CNBC "How Much Unemployment Will I Get? That Depends on Your State", some states are more generous than others with Mississippi paying the lowest, up to $213 per week, and Massachusetts the highest, $555 per week. The length of time also varies with Florida as an example only paying 12 weeks, while many other states pay 26 weeks. However, the federal government has added $600 per week for all states until July 31st and extended benefits for 13 weeks beyond the state maximums.
But Floridians inhabit unique woes that give rise to anger as the state has scrambled to deal with claims backlogs and problems with the CONNECT online unemployment system.
According to a May 14 report by News Service Florida, the state had nearly 222,000 first-time unemployment claims filed last week, the first week of the state's slow economic reopening under Gov. Ron DeSantis, according to numbers posted Thursday by the U.S. Department of Labor. According to the federal agency, an estimated 221,905 claims followed 174,860 during the prior week, and the state peaked with 506,670 new claims during the week ending April 18.
Contact your creditors immediately. Do not put your head in the sand when it comes to your bills. Yes, it's stressful. However, putting off this important task can also increase your stress for no good reason. Creditors know they cannot get water out of a stone! Push creditors to develop a loan modification plan to meet your current financial circumstances. Negotiate, negotiate, negotiate payment terms to meet your family's needs. There are many new mortgage relief and forbearance programs by Fannie Mae, Freddie Mac and other mortgage providers. Contact your lender to find the best solution for you and your family.
3. Don't let anger turn to shame! Many of us are experiencing unemployment for the first time in our lives. The Coronavirus pandemic is not something we did to ourselves and our families, but something we are struggling through as a community. If you or a loved one lost your job, have not received your stimulus money, nor your unemployment check or simply need help making ends meet, reach out to a local food bank, church, or other helping organization in your community. We're sure you've given to many others throughout your life. Now is your time to receive.
Penny Dickerson is a journalist joining The Miami Times following an Africa sojourn and 10-year freelance career in newspaper and magazine. She earned her master of fine arts in creative writing from Lesley University and her bachelor of arts in Journalism from Temple University.