A two-sided fight may cost the vulnerable a win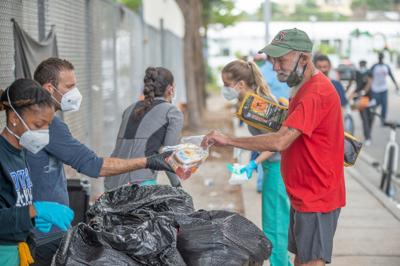 The Miami-Dade County community learned that a public citizen known to be homeless passed away from coronavirus on April 17. He was a 26-year-old resident of the Chapman South Homeless Assistance Center in Homestead, Florida. At his family's request, his name was withheld. His life not only mattered, he represents a vulnerable population in dire need of COVID-19 testing and shelter. While homeless advocates are aligned in their intent, an unkind divide exists between two influential men. Their reconciliation could leverage all efforts to provide for the homeless.
"My job is to guard the money and stretch it as far as any rubber band. I am cheap and frugal, but I refused an offer of 2,000 rapid antibody tests because it is not FDA approved. Everything Dr. Henderson is saying about me is a lie."
-Ron L. Book, Esq.,
Chair of the Miami-Dade Homeless Trust
Book oversees a $68.5M budget to implement the homeless plan
Ron L. Book, Esq. is arguably misunderstood. Raised in North Miami, the former track star studied law at Tulane University and is now over 60 years old and a voluminous presence. He has triumphed cancer and says he is "the poster child for the immunocompromised." He has not been tested for coronavirus, but is ensuring that his approximate, 165 sheltered-seniors and 476 staff are able to access COVID-19 testing.
Book has reigned as a community leader representing the underserved for 25 years and is current chair of the Miami-Dade County Homeless Trust. The position holds him accountable for overseeing a reported $68.5M budget to implement the county's homeless plan. He is an avid storyteller who wields words with speed, but Book admits his entire world stopped when he learned one of the Trust's "own" had died.
"I publicly cried most of the day Saturday," Book told The Miami Times in an exclusive interview on Sunday, April 19. "We thought we were past the peak one week ago and had made it without losing any of our homeless people. I received a call from my staff at about 8:30 or 9:00 a.m. and was just devastated."
Pandemic planning
According to Book, the deceased male had underlying health issues including "serious diabetes," and when it was discovered a male in the public-private partner, Chapman Partnership male dorm tested positive, every known Centers for Disease and Control and Prevention protocol along with mandates provided by the Florida Dept. of Health and division of emergency management.
"We started negotiating four or five weeks ago with hotels to make sure we had shelter reserved if we needed it," said Book. "We know you can't just snap your fingers and make things happen if the need arises and you need to evacuate hundreds of people, so we've been planning ahead since the pandemic's onset."
That planning began mid-March with the dissemination of information on social distancing and the threat of coronavirus in English, Spanish and Creole to as many of the 1,024 homeless individuals who dwell outdoors in the county that could be reached. Families and individuals at the Salvation Army, Lotus House, Camilus House, Chatman Partnership and beyond were, too, included and given masks, gloves and hand sanitizer.
Who launched an initiative to test the homeless and the preferred methodology remains a debate, but Book said he was on the street with his Project Lazarus and Camilus House team last week.
"I wasn't satisfied with the pace. Why in a five hour period, could we only complete seven or eight tests?" Book wondered. "In one day, we still only did 20 tests, and the main reason is that it takes a great deal of time to convince a homeless person to take the test, complete paperwork and acquire signatures. I have begged, and they shake their heads and say, 'I don't wanna. I don't wanna.'"
According to Book, testing is ongoing with more than 3,500 more swab kits on order. The culmination of much of Book's efforts are marked in the Trust negotiating a contract with Dunns-Josephine Hotel to house clients who have been tested and need to remain quarantined pending results.
"The last guy I touched was a 77-year-old man who lives in the underpass of Jose Marti Park," said Book. "He tested, but then refused to accept a hotel room.
That's not uncommon and people don't factor those situations into the equation when seeking to understand the Trust's dilemma."
"People's perception of the homeless is jaded, discriminatory and unfair. We are grateful, humble and appreciative to be here."
-Metris Batts-Coley, sales and marketing director, Dunns-Josephine Hotel.
Black-owned business bridges the gap
Historic Overtown welcomed Dunns-Josephine Hotel to the neighborhood in December of 2019. The Harlem Renaissance-themed bread and breakfast is adjacent to cruise ports and the airport with 50% of the clientele being international travelers.
It is also situated blocks from tent city occupied by the homeless community, their new clientele. Owner Kristen Kitchen and the Miami Dade County Homeless Trust have engaged a contract to assist the greater good.
COVID-19 contract with Homeless Trust
The Miami Times reported April 1 that the business first experienced pandemic-related occupancy following the cancellation of the Miami Gardens Jazz in the Gardens music festival scheduled March 13-15.
Kitchens was quoted to have said, "We had 42 cancellations in 24 hours that weekend…it was a train wreck you couldn't stop." The Dunns-Josephine is one of few, local Black-owned businesses who have experienced an economic reprieve during the COVID-19 pandemic.
"We signed an initial, one-month contract on March 25 for $32,000," Metris Batts-Coley told The Miami Times April 18. "The room rate is $76 and our maximum occupancy is 15 rooms in a two-story dwelling. The Southside of the second story, houses eight rooms and opens up to a breeze way that allows clients to smoke."
Book said he entered negotiations for the short haul, but expects he may have to extend to meet needs.
"We need to ensure that people have access to housing during the testing period and beyond," Book said. "I am guessing the contract will last 60-90 days or longer."
Public health expertise
Batts-Coley earned a Bachelor of Arts degree in marketing from Johnson & Wales University and met Kitchen through economic development circles. But her background in public health proved to be the link need to successfully collaborate and meet a critical need during an unexpected pandemic.
"I was the HIV/AIDS minority coordinator for Palm Beach County," Batts-Coley said. "I have worked for Catalyst Miami, and I am rooted in continuum care. To pull this off, I didn't solicit the help of residential workers, but rather those in behavior health who had been furloughed or laid off."
An expertise in protocol development helped Batts-Coley transition the hotel to emergency accommodations where social distancing and all CDC guidelines were followed. A television, Netflix and Wifi are also provided in each room along with a coffee pot, microwave and refrigerator.
"We are not offering a hotel experience, this is isolation. The clients who come here are quarantined until their test status is known," Batts-Coley explained. "There is no room service or turn-down. Rooms formerly named Josephine Baker, Marcus Garvey and Zora Neale Hurston now have numbers and clients who check in are from Chapman, Lotus or various shelters and arrive with masks and gloves, but we also have N95 masks and bleach cleaning."
"Ron Book is a prison lobbyist. I am a doctor not funded by the Trust nor am I afraid of Book's power. During this pandemic, I felt compelled to do more." -Dr. Armen Henderson
Henderson was handcuffed last week– now, his work continues
Armen Henderson became an unwitting media darling the week of April 13 when he made national headlines for being racially profiled. He was handcuffed in front of his own home while his wife and two young children sat nearby. A city of Miami police officer suspected Henderson of dumping trash. He was actually loading tents to distribute to the homeless as part of his ongoing street advocacy.
Henderson also offered The Miami Times an exclusive interview on Sunday, April 19 and made clear he was more than a Black man in handcuffs and a headline. And don't let the baby face fool you. The 34-year-old Philadelphia native is a graduate of the city's renowned Central high school and excelled at hoops as a Mansfield University undergraduate. Meharry medical college followed along with a residency at Jackson South where he currently practices as a licensed physician of internal medicine through the University of Miami Health System.
Verbal handshake to backtracking
"On March 20th, my friend Mario Bailey, who is a Tallahassee lobbyist and familiar with my community work, encouraged me to reach out to Ron Book," Henderson said. "I was then referred to Vickie Mallette, executive director of the Homeless Trust. I told her I was going to start testing the homeless and she said, 'Great! Let me know if any test positive and we'll house them in hotels.'"
"Vickie seemed amenable, but two days later when I identified symptomatic homeless people needing quarantine according to CDC guidelines, the conversation ended. She said they didn't have any hotel rooms," Henderson explained.
Henderson is an experienced street soldier in disaster management whose training includes three stints in Haiti and working stateside following hurricane Irma. His alliance of cohorts includes the Dream Defenders, New Florida Majority, Smile Trust and Dade County Street Response Disaster Relief team.
An evolution of distrust ensued that included Mallette allegedly reporting Henderson to the Florida Dept. of Health. Brought into question was both his medical credentials and who approved him to pursue county testing? That was March 22 and while Henderson provided text messages, The Miami Times reached out directly to Mallette.
In a statement provided to The Miami Times April 21, The M Network provided the following on behalf of the Homeless Trust: "Thank you for reaching out to the Trust for a comment. We really do appreciate it, however, at this critical point in time, opening up this conversation does nothing to advance efforts to serve homeless individuals in Miami-Dade. No one benefits."
On Friday, April 17, Henderson was front and center at lot 15 of the Miami Parking Authority where he held a press conference in conjunction with community organizers, clergy and medical providers.
His call for action was the very charge Book claims he has championed all along. According to the press release, Henderson is calling for Book and Miami-Dade County Mayor Carlos Gimenez to take immediate action and announce an expansion of the group's efforts to provide resources to Miami's homeless community.
"We wouldn't be out here if the Homeless Trust, which receives millions of dollars in tax revenue every year, we're doing what needs to be done to protect the homeless," said Henderson who dually serves as director of health program for the Dream Defenders.
"Chairman Ron Book has left our most vulnerable communities out on the streets, without testing them, without giving them a place to shelter, wash and eat. This negligence is putting our entire city at risk in the face of the pandemic. The way I was racially profiled and arrested on Saturday is business as usual in Miami Dade County. Their response to a pandemic in our communities is to criminalize, rather than protect, the most vulnerable, especially poor, Black people."
Henderson is equally advocating for what he deems unwarranted and exorbitant arrests of homeless people in the county, an activity he believes is directly related to Book's lobbyist activity on behalf of the for-profit prison company, the GEO group.
"In my public data search of Miami-Dade jail bookings between March 12, which was the start of the emergency pandemic period, and April 18, there were 264 arrests where the address is listed as homeless, that's out of 2,708 entries," Henderson told The Miami Times. "That's 9.75% of all arrests and 21 of those entries were second and third arrests for the same person. So, in reality, 243 homeless individuals have faced arrest since this pandemic began."
Henderson is passionate in his quest to seek resolve and it is his belief that the Trust just started testing the homeless "three days ago," indicating they launched April 16.
"We should all be working together, but the Trust could be doing more," Henderson said. "I want to get everybody who wants to be off the streets, off the streets, and now that we have Ron Book's attention, he can do more too."

Penny Dickerson is a journalist joining The Miami Times following an Africa sojourn and 10-year freelance career in newspaper and magazine. She earned her Master of Fine Arts in creative writing from Lesley University, and Bachelor of Arts in Journalism from Temple University.